'Mad Men"s 'Zou Bisou Bisou' on Vinyl: Another Icon is Born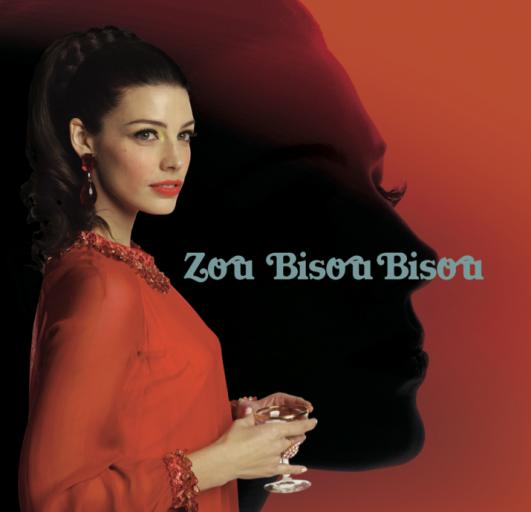 Actress Jessica Paré first joined Mad Men as a character named "brunette." She didn't have a number attached, but the part offered enough anonymity, it might as well have. Now, as those of you who've seen the Season Five premiere of the AMC series know, Paré's role has transformed from background secretary to the boss' wife: she's the new Mrs. Draper. And as if that title wasn't iconic enough already, Megan Draper put on a little performance of French tune "Zou Bisou Bisou" for Don and it's since hit the iTunes charts and it's even available on vinyl. Mad Men may have just created a 60s icon just for contemporary audiences. 
The song was first performed 16 year-old French singer Gillian Harris, and her youth combined with the coy presentation of the song couldn't have hurt the choice to use the song as Megan's surprise for her new, 40-year-old husband. Megan's jaunty, sexy little tune has had the internet buzzing since the East Coast airing of "A Little Kiss" and while many fans went into the episode wondering
what might happen with Betty and Don
, Megan pushed that thought far from our minds with her provocative dance. 
And it was a big moment for Pare, who said on a conference call with reporters, "I never thought I would make a single." She added, "I can't believe I'm new on the show and I have to do an entire song and dance for the cast of Mad Men." Well, not only is she solidly in that set (at least for now) with this number, but she's secured her place in the catalog of incredibly memorable moments.
And for American audiences, "Zou Bisou Bisou" (mistakenly pronounced as "Zoo bee zoo bee zoo" occasionally) is brand, spanking new. For us, as darling as Harris version is (below), the song is simply "The Megan Draper" song, but it also signals Men Men's powerful reach. For this particular tune, the series has almost rewritten history. 
When Megan arrested an entire party of Don's colleagues and split their opinions all at once, it felt as if the whole country was witnessing this moment in pop culture history. The bonus is that if you weren't watching, you can now purchase that moment to relive over and over again.
Do you think Megan's song will join the ranks of
Mad Men's
iconic pop culture contributions? Will Megan have a place alongside her husband in the television history books?