'Mad Men' Season 5: Decoding the Teasers and Hints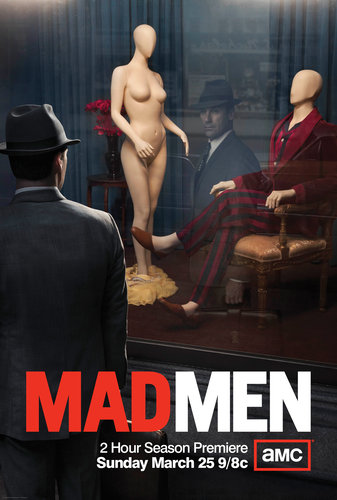 There's something funny about the teasers and trailers for Mad Men's triumphant return — also known as Season 5. They're all missing an integral element: new footage. Perhaps the folks at AMC think that year and a half gap between seasons is enough to make us forget, or they're just that committed to keeping all of the new season's secrets contained. Of course, with all the interviews and constant publicity surrounding the series, a few sneaky peeks are sure to come out and we've been ready since Summer 2010 to catch them all. 
It's All About Self-Reflection…We Think
One of the biggest and most cryptic hints about Season 5 comes courtesy of a photo you've probably seen three or four times in your morning commute. The latest Mad Men poster finds our anti-hero Don Draper staring in at a window that holds both his own reflection and a rather perplexing scene: two mannequins posed in a provocative domestic scene. An upstanding gentlemanly figure reclines luxuriantly while the female figure presents her bare mannequin body with a dress pooled around her ankles. They call that the Don Draper effect. 
Showrunner and creator Matthew Weiner made a few promises about this intriguing image in an interview with the New York Times. He said, "This is a dreamlike image…a nonverbal representation of where my head is at and where the show will be." Weiner promises that it will make sense by the end of the season. It could represent a future temptation for the betrothed, yet sexually-charged Mad Man. Or perhaps his domestic life with Megan isn't as sexy and youthful as he hoped it would be? Or maybe, just maybe, this poster represents something we could never imagine. 
This Season Promises Surprises Beyond Our Imaginations
Both
Jon Hamm
and
Jared Harris
(who plays Lane Pryce) have expressed that Season 5 holds great surprises for even the most obsessed and intuitive fans. In the behind-the-scenes promo from AMC, Harris notes that "Matt [Weiner] never goes backwards." The characters will continue to progress, and while some fans may want things to go back to business as usual, the cast and creator have no intentions of turning back. 
"I think it will be a surprise and I think people will be pleasantly surprised and excited to see it," said Hamm. The series has always kept us on our toes; whether it's Peggy's secret pregnancy, Don's identity secret, or Sally's growing pains, we're always surprised and delighted by the ingenuity of the writing and the level to which the writers clearly know these characters as real people. If what Hamm and Harris say is true, we're in for some seriously inventive and satisfying plot lines.
The Premiere is Mad Men: The Movie
Weiner is making AMC history with the March 25 premiere, which will be not one, but two full hours of Mad Men goodness. It's the perfect way to welcome us back. But this is television, there will have to be a demarcation between the episodes at the one hour mark, right? Not necessarily. The showrunner tells the Hollywood Reporter that while there will be a storyline introduced at the halfway point, it will all come together as one story by the episode's end. "It's a Mad Men movie — I don't think anyone's going to think it's two episodes spliced together," he said. In that case, bring it on, AMC. 
Trouble in Paradise?
In that same interview, Weiner discusses the relationship between Don and his new fiance Megan, but when the interviewer remarks that the couple is married, Weiner is very careful to correct him. "Don does not marry Megan…Don proposes to Megan and Megan accepts," he said. It could be just a simple correction, since the impending nuptials haven't yet happened, but could it be that the wedded bliss isn't as impending as we thought it would be? It wouldn't be totally out of character for the serial tryst artist to fall madly in love and drop his wife-to-be like a plate of fabulous hotcakes. Whatever happens, we can be sure it will be a surprise.
The New Normal
Mad Men has a way of making every season feel like a revolution and Season 5 aims to continue that tradition. In a chat with the New York Times, Weiner spoke of the new season's "theme" noting that we're heading into completely unfamiliar territory. "There's a line in Episode 3, which is Week 2, where somebody says: 'When is everything going to get back to normal?'" he said. "Who hasn't felt that right this minute? And that is a lot of what the season is about. That sensation that, well, this is normal." 
Mad Men premieres Sunday, March 25 at 9 p.m. ET/PT on AMC.