'Mad Men': Reflecting on Where Season 6 Has Taken the Sterling, Cooper & Partners Staff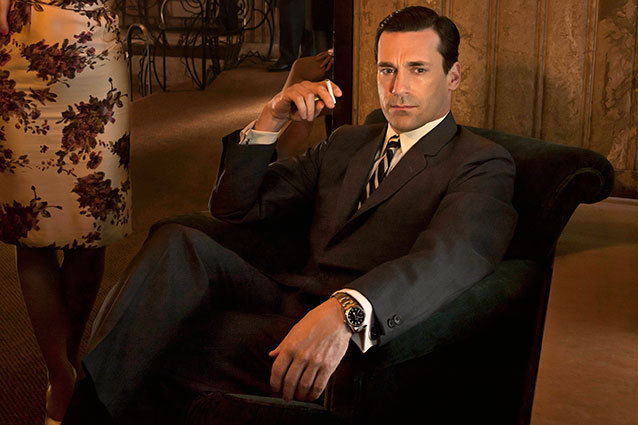 As we prepare for the final episode to this penultimate season of Mad Men, we are inclined to look back upon the year at Sterling Cooper Draper Pryce (now Sterling Cooper & Partners). Where have these dozen episodes taken Don Draper, Peggy Olson, and the rest of the characters? And where are they headed? Here's a quick rundown with some reminders of this eventful year and predictions for the future:
DON DRAPER
When we caught up with Don… He was on top of the world! A compassionate, talented, beautiful wife with a budding career in show business. A slightly on-the-mend relationship with the mother of his children. A stable job at a thriving advertising firm. Things couldn't be better for Don!
One season later… He has engaged in a tumultuous extramarital affair with a neighbor — one that he was caught in the act of exploring by his 13-year-old daughter — has been forced to merge his company with that of a rival whom he can't seem to help himself from trying to emotionally destroy, and is pretty much as miserable and corrosive as any man can possibly be.
And from here, he'll… Continue to slide gradually down into a sea of self-loathing madness until the demons of his past overtake him entirely. Perhaps Sally will reveal the affair to Megan, or his efforts to uproot coworker/selected enemy Ted Chaough's psyche will blow up in his face. Or maybe that crazy lady will break into his apartment again and exact her wrath on the Draper clan. Or Dr. Rosen, the husband of Don's illicit ladyfriend. To be frank, the probable venues for Don's decimation are countless. 
PEGGY OLSON
When we caught up with Peggy… She had finally spread her wings and flown free from the shackles of the misogynistic Sterling Cooper where she was bred. No longer within the destructive reach of Don Draper, she could explore her creativity and grow as a businesswoman in a new environment. And now that she was living with intellectual Abe in her very own apartment, things were looking up for Peggy in all departments.
One season later… She's back at Sterling Cooper, suffering all of Don's self-effacing wallowing, has broken up with Abe (after stabbing him, no less), and begun exploring a romantic affair with a married man. Oh, and her apartment is filled with rats.
And from here, she'll… Trigger to the destruction of the Chaough household and of lovable old Ted himself… perhaps literally. Nobody that ostensibly nice can survive a full season of Mad Men, can they?
PETE CAMPBELL
When we caught up with Pete… He was a happily… er, steadily married man with a secret Manhattan apartment, recently augmented in professional standing at Sterling Cooper Draper Pryce.
One season later… He's separated, tending to the needs of his increasingly delusional mother, caught in the crosshairs with the maniacal Bob Benson… still pretty much the same douche, though.
And from here, he'll… Throw himself out a window? We're all pretty much aligned with the theory that he's the guy in the opening credits, right?
ROGER STERLING
When we caught up with Roger… He was a twice-divorced LSD aficionado rapidly descending the scale of human evolution.
One season later… His mother died and he got punched in the gut. Otherwise, he seems to be doing pretty much the same.
And from here, he'll… Break ground in therapy and become a mature adult, a doting father and grandfather, and the sort of man he's never realized he always wished he was. Either that, or he'll do more LSD and try to sleep with a bunch of younger women.
JOAN HARRIS (NEE HOLLOWAY)
When we caught up with Joan… She was an actual character on this show.
One season later… She's shown up a couple of times. Once to get knocked down a few pegs in her pursuit of a new client, once to say something about chicken soup in a Jewish-American accent.
And from here, she'll… Thrive as a Johnny Walker spokesperson, most prominently.
BOB BENSON
When we met Bob… He was a cheerful, generous, ambitious young buck signing onto the Sterling Cooper brand to learn from the best of the best and make a name for himself in the biz, golly gee.
One season later… He's been revealed to be a Machiavellian liar and possible sociopath riddled with countless dark secrets, and a stalwart enemy to Pete Campbell.
And from here, he'll… Die. If Ted Chaugh doesn't bite the dust before Season 7, Bob Benson sure as hell will. Or he'll take an axe to someone else at the SC&P staff… This guy's got "horror story" written all over him.
And how about Betty, Megan, and Sally? Ken Cosgrove and Harry Crane? Ginsberg, Stan, and the kid from Frasier? Only the writers know. And possibly Bert Cooper. Hey, he predicted Kennedy's election.
Follow Michael Arbeiter on Twitter @MichaelArbeiter.
More:
'Mad Men' Recap: The Quality of Mercy
'Mad Men' Recap: Favors
'Mad Men' Recap: A Tale of Two Cities
---
From Our Partners:


What Happened to 33 Child Stars (Celebuzz)


40 Most Revealing See-Through Red Carpet Looks (Vh1)