'Mad Men' Star John Slattery: Rihanna Gets Me Going — VIDEO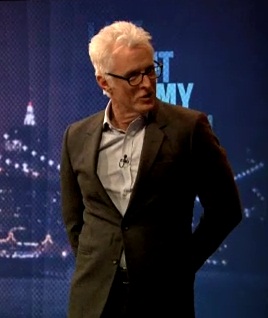 Mad Men star John Slattery can wear a suit, drink a martini and handle a client like nobody's business. But every great man has a weakness, and his is photo shoots.
Last night, Slattery joined Jimmy Fallon on Late Night to recount a recent photo shoot for GQ, where he didn't exactly master the idea of a moving shot. Confused about how to handle the command of walking toward the camera, Slattery tried out a couple of different maneuvers (which he demonstrates below). The big winner was when he embraced the power of Rihanna and gave the camera some kind of a hybrid between marching and dancing, which equated to the motions of a too-drunk Roger Sterling.
But somehow, honestly, Slattery can even make this look good.