Maisie Williams, Arya Stark on 'Game of Thrones,' Is a Vine Champ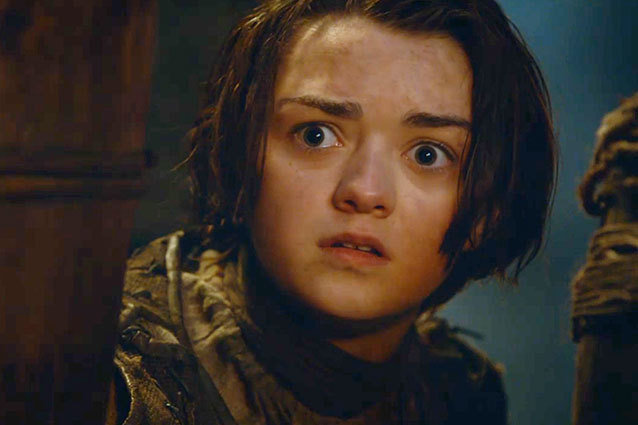 The Internet exploded with reaction videos, traumatized tweets, and photo memes after Game of Thrones aired its most shocking episode to date, "The Rains of Castamere," Sunday night. And if Internetting were a competition (and, let's face it, it is), the clear winner would be Maisie Williams, the 16-year-old who portrays Arya Stark on the series. On Monday, the young star posted the most perfect Vine we've ever seen as a reaction to the bloodbath we affectionately call the Red Wedding.
If you haven't watched "The Rains of Castamere," you probably should skip this particular Vine. 
*spoiler ep9* vine.co/v/b3XZMHmxzxh

— Maisie Williams (@Maisie_Williams) June 3, 2013
After discovering said masterpiece, we spiraled into the wonderland that is Williams' social media presence. Williams' Twitter feed is a veritable treasure trove, and all her Vines are gems. 
Here they are, for your viewing pleasure (no spoilers in these guys, just whimsical magic):
In Which Maisie Is Bored
Wahhh vine.co/v/bYdpXZOJVMQ

— Maisie Williams (@Maisie_Williams) May 30, 2013

In Which We Wonder Where Maisie's Leg Is
— Maisie Williams (@Maisie_Williams) May 22, 2013

In Which Rain Happens to Maisie's Face
British weather.. vine.co/v/b0ZPt7tPMKD

— Maisie Williams (@Maisie_Williams) May 10, 2013

In Which We Meet Barney 
Chillennnnn vine.co/v/bxEhEmtAWn7

— Maisie Williams (@Maisie_Williams) April 30, 2013

In Which Maisie Sings The Batman Theme
Batman! vine.co/v/bxEZrE1F9EU

— Maisie Williams (@Maisie_Williams) April 30, 2013

Follow Abbey on Twitter  @AbbeyStone | Follow Hollywood.com @Hollywood_com
More:
'Game of Thrones' Recap: The Rains of Castamere
Book-Lover's Spoiler-Filled Guide to 'GoT' Season 3  
Nerds Are Naming Their Babies Arya After 'Game of Thrones'  
---
From Our Partners:


Zoe Saldana Strips Down For Magazine (Celebuzz)


33 Child Stars: Where Are They Now? (Celebuzz)