Mandy Patinkin Calls 'Criminal Minds' the 'Biggest Public Mistake' He Ever Made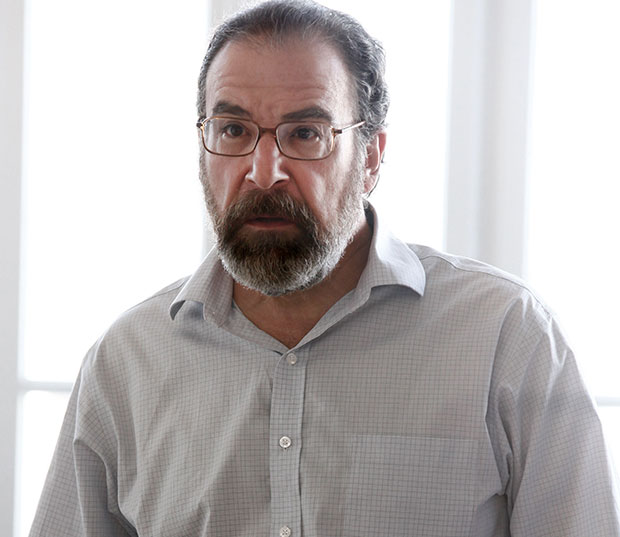 If we think hard enough, we can remember the old Mandy Patinkin: the one we knew before the days of Claire Danes-enabling and fluffy beardom. The actor's last television stint before Homeland was the CBS crime procedural Criminal Minds, on which he starred for two seasons between 2005 and '07. Patinkin's leave from the show was abrupt, as the actor has affirmed a distaste for the content of the program. A recent New York Magazine interview has Patinkin delving deeper into his issues with the show. The actor goes so far as to say, "The biggest public mistake I ever made was that I chose to do Criminal Minds in the first place."
Patinkin joined Criminal Minds with ideas about what the show might be, but apparently wound up starkly disappointed: "I thought it was something very different. I never thought they were going to kill and rape all these women every night, every day, week after week, year after year. It was very destructive to my soul and my personality." He adds, "After that, I didn't think I would get to work in television again."
This isn't a sentiment he resigns to Criminal Minds alone, but to the crime procedural genre in general: "I'm not making a judgment on the taste [of people who watch crime procedurals]. But I'm concerned about the effect it has. Audiences all over the world use this programming as their bedtime story. This isn't what you need to be dreaming about."
But Patinkin has some very different feelings about his current job on his critically acclaimed Showtime drama: :A show like Homeland is the antidote. It asks why there's a need for violence in the first place."
And although Patinkin might have distance himself from the forces behind Criminal Minds with these statements, he joins the revered community of actors who hate the stuff they've been in. And he's in pretty good company:
Katherine Heigl and Knocked Up
Not only has Heigl declined Emmy nominations for Grey's Anatomy in light of the show's writing not meeting her standards of quality, but she has also gone on record against the 2007 comedy Knocked Up, taking particular issue with writer/director Judd Apatow's female characters. In an '07 interview with Vanity Fair,Heigl called the movie "sexist," and said, "It paints the women as shrews, as humorless and uptight, and it paints the men as lovable, goofy, fun-loving guys."
Bob Hoskins and Super Mario Bros.
There aren't too many Super Mario Bros movie apologists out there who are going to take issue with Hoskins' lack of affinity for the film. In a 2011 interview with The Guardian, Hoskins was asked the following three questions: "What is the worst job you've done?," "What has been your biggest disappointment?," and "If you could edit your past, what would you change?" To these, the actor replied, "Super Mario Brothers," "Super Mario Brothers," and "I wouldn't do Super Mario Brothers," respectively.
Mark Wahlberg and The Happening
And then of course there is Marky Mark's tirade against his 2008 M. Night Shyamalan endeavor The Happening. During a press conference, Wahlberg eloquently illustrated his fervent distaste for the film's ultimate reveal: "F***ing trees, man. The plants. F*** it."
Bill Murray and Garfield
Here's a personal favorite: comic genius Murray admitted that the only reason he signed on for the 2004 film adaptation of Garfield in the first place was due to a case of mistaken identity. In a 2010 interview with GQ, Murray revealed the truth behind his 
"I looked at the script, and it said, 'So-and-so and Joel Coen.' And I thought: Christ, well, I love those Coens! They're funny. So I sorta read a few pages of it and thought, Yeah, I'd like to do that … So I worked all day and kept going, "That's the line? Well, I can't say that." And you sit there and go, What can I say that will make this funny? And make it make sense? And I worked. I was exhausted, soaked with sweat, and the lines got worse and worse. And I said, "Okay, you better show me the whole rest of the movie, so we can see what we're dealing with." So I sat down and watched the whole thing, and I kept saying, "Who the hell cut this thing? Who did this? What the fuck was Coen thinking?" And then they explained it to me: It wasn't written by that Joel Coen."While Murray presumed the screenwriter of Garfield to be the famed Joel Coen who co-wrote and -directed critically acclaimed movies like The Big Lebowski, Fargo, and No Country for Old Men, the Joel Cohen behind his film was in fact the writer of Toy Story, Cheaper By the Dozen, and Evan Almighty. Topping this off, Murray made a tongue-in-cheek jab about Garfield while playing himself in the 2010 horror comedy Zombieland. As Murray lay dying in the film, he is asked by stars Jesse Eisenberg and Woody Harrelson about his biggest regret, to which he shrugs and surmises, "Garfield, maybe."
Alec Guinness and Star Wars
And finally, the Jedi Master Obi-Wan Kenobi, who grew a strong distaste for the iconic film Star Wars after its fandom began to grow well past the levels he felt appropriate. In Guinness' memoir A Positively Final Appearance, published in 1999, the actor shares an anecdote about a run-in with a 12-year-old die hard devotee of the film, who admitted that he had seen Star Wars over one hundred times. Guinness agreed to supply the young boy an autograph if he would grant him one request: never watch Star Wars again. The actor remarks in his book, "I shrivel inside each time [the movie] is mentioned."
[Photo Credit: Ronen Akerman/Showtime]
More:
The First 20 Minutes of 'Homeland' Season 2 Are Jam Packed with Action
41 Questions About the 'Homeland' Season Two Trailer
New 'Homeland' Trailer: How Dangerous Is A Role Reversal? — VIDEO