Manti Te'o Hoax: Katie Couric Beats Out Oprah for First On-Camera Interview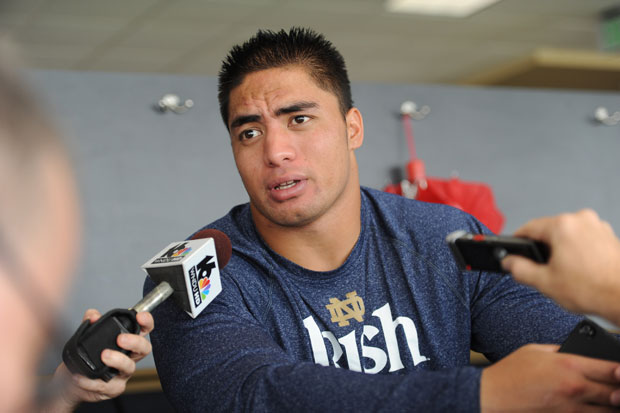 Notre Dame linebacker Manti Te'o continues to be on the defense following the revelation that his online girlfriend, who supposedly died of leukemia, was a fake. But Te'o, who some claim was an active participant in the hoax, has another opportunity to convince fans of his innocence. The New York Times reports Katie Couric has scored the first on-camera interview with Te'o.
The hoax attracted much interest among sports fans after Deadspin broke the story that Te'o's girlfriend — who the football player often spoke about publicly — did not exist, and instead was an online personality likely created by acquaintance of Te'o's. Though Te'o — who was poised to win the Heisman trophy before news of the hoax broke — has spoken about being duped online with ESPN, Couric will mark his first non-print interview. "I wasn't faking it," Te'o, who admitted to lying about having met his online girlfriend, told ESPN. "I wasn't part of this … When [people] hear the facts, they'll know. They'll know that there is no way that I could be part of this.
So will we hear the facts during Couric's interview? The talk show host's sit-down with Te'o and the football player's parents, Brian and Ottillia, will air on Katie Thursday, with excerpts from the interview airing on Good Morning America prior to its debut. The interview marks a big victory for Couric — the talk show host beat out Oprah Winfrey, who recently landed Lance Armstrong's doping confession. Your move, Maury.
[Image Credit: INFphoto]
More:
Manti Te'o Claims He Didn't Lie… Except About This One Thing
Why 'Catfish' is MTV's New 'Jersey Shore' (Thanks to Manti Te'o)
Te'o Hoax: 'Catfish' Star Nev Schulman Reveals His Stance on the Controversy

Craziest Celebrity Swimsuits (Celebuzz)