Manti Te'o on 'Katie': Raises WAY More Questions Than Answers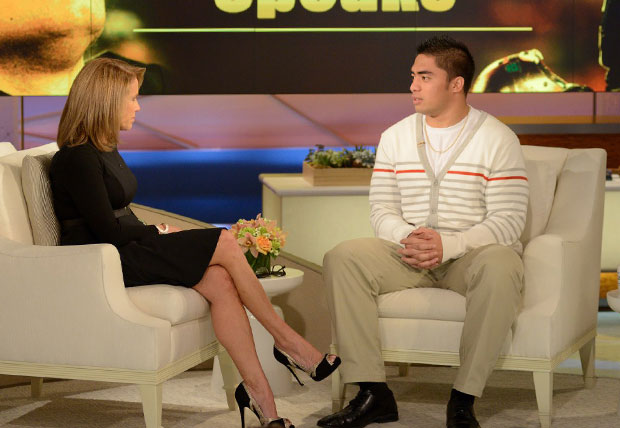 Well, if you were looking to Katie Couric to get the whole truth (and nothing but the truth) on the ongoing mega-saga that is Manti Te'o's fake girlfriendhoax, I'm sorry to say, prepare to be sorely disappointed and increasingly confused. The veteran news reporter scored the first on-camera, sit-down interview with Notre Dame's Manti Te'o earlier in the week, which aired on her syndicated show, Katie, Thursday afternoon on ABC. Sure, a better timeline was constructed, but the web of lies continues to leave those listening flummoxed and highly skeptical about where the real story is — and if we'll ever hear it.
Couric tried her best to serve several hardball questions at Te'o, but his answers only continued to confuse — making the whole thing an even harder mess to understand. But that didn't stop Couric from following up on her skepticism (which at times felt comically vaudevillian in nature). To be fair, it must be hard to keep an unbiased tone in the face of such a red flag-ridden, rambling story.
Dressed in the sort of outfit you'd see high school athletes wear on game day — khaki slacks and a striped cardigan — Te'o's tale unfolded slowly throughout the hour. But instead of giving us answers, he only raised more questions. So we've compiled those questions for you, here.
When did former college football quarterback from the Oregon State Beavers, Lyle Moevao, get involved?Te'o explained that the two were friends that talked "through Facebook" — can he be trusted?Was he also duped by Lennay Kekua, or was he in on the hoax with Ronaiah?Does Te'o know that Santa isn't real, either? [SPOILER ALERT]How many and which friends of his confirmed Lennay was real? Were they also in on the hoax?Does Te'o have any friends in real life that aren't on the Internet or in on this hoax?Does Te'o understand why it looks like he's also in on the hoax?How could someone who alleged skepticism from the get-go let a relationship where he never met or spoke to the person via video chat, let this ruse go on for four years?Do we need to require a Common Sense 101 seminar for all college freshman now?How many times did Te'o try to FaceTime with Lennay before he gave up trying?Why would he ever give up trying?When it came to attempting to see Lennay after her accident (when she was allegedly in the hospital) on his way back home to Hawaii, why didn't he just change his plane ticket?Why was he scared to broach the subject with his parents? Why did he think, when they are so clearly understanding and supportive of their son and his relationship, that they wouldn't be OK with him changing his flight to see his girlfriend who just nearly died?Seriously, did he really believe that his parents wouldn't let him come home from school a few hours later in order to briefly visit his girlfriend, who was in a coma, in the hospital when they all knew he supposedly loved her?Does Te'o really know what love is, if he gave up that easily on seeing the love of his life?Does Te'o still not see why this story looks like a total cover-up and complete horses**t?HOW IN THE WORLD did he let her come to Hawaii and get away with not seeing her? Why didn't he just go to the hotel himself?Does Te'o actually know what a respirator sounds like?Why keep a voicemail of a girl giving you s**t for having another girl answer his phone?If there was no possible way this could've happened, why didn't he call Lennay out for being delusional and cut things off there?How is Manti Te'o so understanding of such elaborate stories?Did he ever ask Lennay, after she confessed to being alive but hiding from drug dealers who were after her, why she lied about the cancer?Wouldn't that sort of freak a guy out? Didn't he think how insane that was?Did Te'o ever question her, then, about the sounds of her breathing, the story of the nurses' discussing her heart rate, and that damn respiratory machine?WHY? HOW? WHATDoes Te'o really believe this s**t he's tryin' to sell?Does Te'o realize how scripted the following quote sounds? Is this still all part of some script? "The greatest joy in any child's life is to make your parents proud, and the greatest pain is to know they're experiencing pain because of you."Does Te'o know the term "crocodile tears"?Did Te'o question Lennay as to WHY it took her from December 6 to December 21 to take a f**king web cam photo of her with a sign?Seriously, though. That's like, 15 days.Why even bring up Lennay at all during the Heisman Trophy stuff, when he knew something was amiss? Why not just say "no comment"?How far from gay is "far from it," Te'o?Does Katie Couric believe anything this guy just said?Why didn't Te'o immediately cease all contact with Lennay after she mysteriously returned? Because I'd be all, 'b**ch, peace!'How gullible is Manti Te'o, if this bizarre story is actually somehow real?WHERE THE F**K IS RONAIAH TUIASOSOPO? WHY WON'T HE SPEAK OUT?Why does a college football sensation at arguably one of the most football-obsessed schools in the country have to resort to dating a girl online?Are you sure this isn't just an elaborate bearding scheme for a secret romantic relationship with Tuiasosopo, Te'o? (It's OK, you can level with us!)It sure is an interesting coincidence that Lennay is one letter away from Lenny, don't you think?So what is it, Te'o? Are you gay or are you just dumb and gullible? Out with it.
Miss the Couric interview? Check out the voicemails below and see if you think the voice on the other end could be a guy.
In the end, there are far more questions than there are answers, and it seems to me that we're in for a long, drawn-out speculation over what is real and what isn't in the Te'o story. What do you think is the truth? We want to hear your theories in the comments!
[Photo Credit: ABC]
Additional Reporting by Shaunna Murphy
Follow Alicia on Twitter @alicialutes
More:
The Manti Te'o Catfishing Story is the Best, Most Bizarre Sports Story. Ever.
Te'o Hoax: 'Catfish' Star Nev Schulman Reveals His Stance on the Controversy
Manti Te'o and the 'American Idol' Effect: Our Addiction to the Culture of Tragedy

Celebs as Kids: Guess Who? (Celebuzz)