Mariah Carey Was a Hot Mess On GMA: She Cursed, Broke Her Dress, And Forgot Her Shoes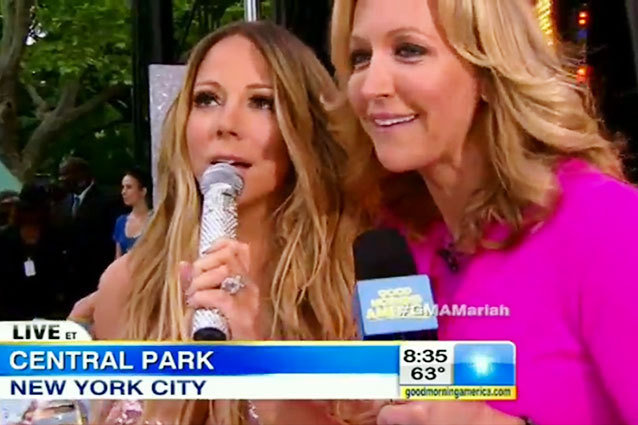 Songstress Mariah Carey braved the wee hours of the morning to appear on New York's Good Morning America Summer Concert Series in Central Park — and in this one teeny tiny appearance, all hell broke loose.
First the diva forgot that she was on live TV and decided that it was the perfect time to let the s-word slip. "Oh S**t! Oh, wait you didn't hear that. I said 'Shoot.'" Sure you did, Mimi. Then the Glitter star suffered from an unexpected wardrobe malfunction when the zipper of her Donatella Versace dress popped open.
"Oh shoot, now the back of my dress just popped!" Carey announced to the world. The singer quickly grabbed her bosoms — which she fondly refers to as "them" — and continued to narrate her body-poppin' experience. "Oh, okay both of them are out now. What should we call this? The Central Park Saga?"
After a quick outfit change, and singing two of her signature songs, Carey was joined on stage by face-kicker Miguel to sing their new song "#Beautiful." (And yes, like you, we're still baffled as to why the song begins with a hashtag.) Carey chose to perform sans shoes, giggled her way through the lyrics, and then attempted to reach her signature high notes. She didn't.
Way to be a brave little toaster this morning, Mariah. We know getting up early can be all kinds of difficult. Take a look at Carey's priceless GMA performance below.
Follow Leanne on Twitter @LeanneAguilera| Follow Hollywood.com on Twitter @hollywood_com
More:
Mariah Carey Makes Sweet Love To A Motorcycle In New '#Beautiful' Music Video
'American Idol': Mariah Carey And Nicki Minaj Are Talking To Each Other Now
Mariah Carey Releases 'Oz' Single, But Does It Really Need All The Autotune? — Listen
---
From Our Partners:


Zoe Saldana Strips Down For Magazine (Celebuzz)


33 Child Stars: Where Are They Now? (Celebuzz)