Martha Stewart Joins 'Downton Abbey' at PBS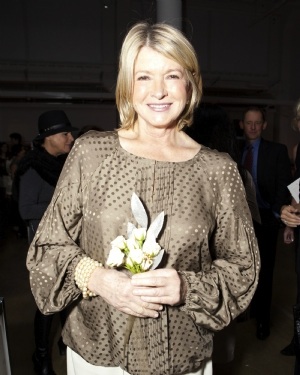 Martha Stewart is a survivor (as she proved during her stint in a minimum-security prison) so naturally she already has a new gig lined up to follow her canceled Hallmark Channel show. The Martha Stewart Show, her daily talk show, has struggled to find an audience for the past two years, and when it goes off the air this summer, Stewart will head to PBS, home of the popular Downton Abbey. 
Her new show, Martha Stewart's Cooking School, is a weekly series hosted by the domestic diva and based on her book of the same name. "This new series combines so many of my passions: teaching and encouraging others," says Stewart. "We will break down classic recipes for home cooks and inspire them to add their unique twist. I'm excited to get into the kitchen and connect with audiences across the nation."
Stewart also calls PBS, "the perfect home for this series," and it also seems like a better place for her than deep cable. While in the past few years Stewart has focused on making crafts and awkward chit chat with celebrities, she was at her best in the long-running series Martha Stewart Living (i.e. the one parodied by Ana Gasteyer on SNL). On PBS Stewart has an opportunity to indulge in her trademark perfectionism and snobbery once again. And that is definitely a "good thing." 
More:
'2 Broke Girls' Gets Martha Stewart as Guest Star
Martha Stewart to Guest on 'SVU' and '2 Broke Girls'—Slick Business Move?
'Downton Abbey' Star Joins Will Smith & Russell Crowe in 'Winter's Tale'?
[NYT]