Matt Damon and Michael Douglas Say 'Behind the Candelabra' Will Respect Liberace's Legacy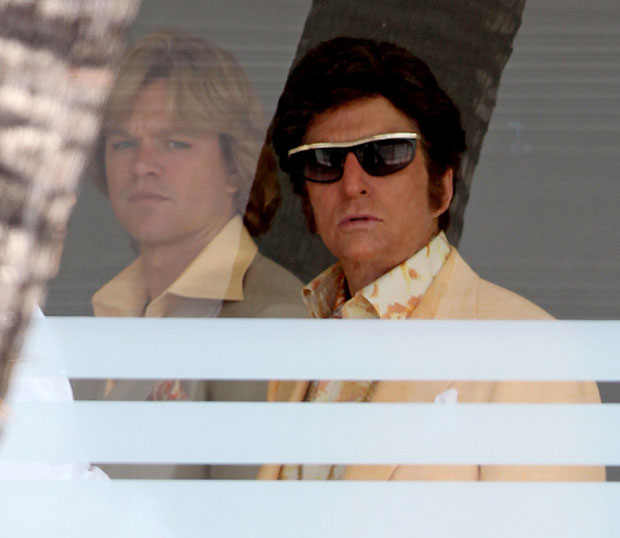 For Steven Soderbergh, Behind the Candelabra, his new HBO movie about flamboyant pop star Liberace (Michael Douglas) and live-in lover Scott Thorson (Matt Damon), was years in the making.
"For years I was thinking about it but couldn't figure out a way in. I didn't want a traditional biopic and I couldn't figure out what the angle was," Soderbergh tells TV reporters at the Television Critics Association winter press tour. But the project came together once a friend told him to read Thorson's tell-all book about the relationship, Behind the Candelabra.
Portraying the couple in a realistic manner was very important to Soderbergh and screenwriter Richard LaGravenese. "We take the relationship seriously," Soderbergh says. "My feeling based on some of the research we did indicated that it was a real relationship and it was, at that point, the longest relationship Liberace had had. I was very anxious that we not make a caricature of either of the characters or the relationship. There's no question that it's unfortunate to see the movie through a contemporary lens and know that they weren't able to be as open back then as people are today."
Damon, who plays Thorson, says that sensitivity came across in the script. "When you've made a lot of movies it's really rare to even see a script this good," he says. "It was so complex, their relationship. Richard so got this dynamic. Whether this was the actual dynamic or not, I completely believed what he had written. … So it was fun, but we weren't giggling about it. We took it very seriously."
That said, there were some outrageous elements Damon and Douglas encountered in portraying both men. "I've always been somebody who goes into the wardrobe fitting and I try to get out as fast as I can," Damon says. "I probably spent more time in the wardrobe fittings on this thing than I had in the previous 15 projects — literally days and days and days. And I really enjoyed it."
Douglas had met Liberace a few times as a child thanks to his father, but studied footage of the musician to really portray him well. "There's a tremendous amount of clips and films that certainly give you a sense and idea [of what he was like]," Douglas explains.
Although Liberace's larger-than-life personality is often poked fun at now, executive producer Jerry Weintraub notes that Liberace's musicianship is often overlooked.
"I think that it's well known within the industry and among musicians that he's among the best pianists of all time, but he became a great showman," Weintraub says. "I think his piano playing became secondary to [pleasing] his audience. … He presented a spectacle every night."
Ultimately, Behind the Candelabra is very respectful, Weintraub says. "Everybody appreciated [Liberace] and appreciated his career, and I think Stephen captured that on film."
Follow Jean on Twitter @hijean
[PHOTO CREDIT: Miguel Aguilar/Pacific Coast News]
MORE:
Matt Damon warns conservative fans not to see Behind the Candelabra
Michael Douglas tried on his wife's underwear for Liberace research
Best Wigs Ever: Michael Douglas and Matt Damon Take Liberace