Matthew Gray Gubler On Tonight's 'Criminal Minds' and Reid's New Love Life—EXCLUSIVE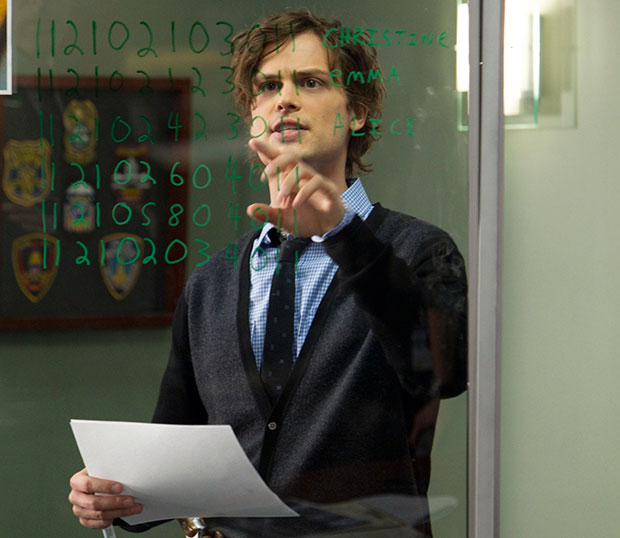 Each week Criminal Minds presents audiences with a weekly psychological thriller complete with crazy twists, turns, and quirky yet relatable characters. However this week's episode, "The Lesson," will bring us something that we've never seen before.
To get all the gory details on the all-new action-packed hour, we chatted with star Matthew Gray Gubler—who also directed tonight's episode—to discuss his Spencer Reid's love life, and how he's spreading holiday cheer through Criminal Minds. "I don't know how quite to explain it it's a little bit of a surprise but I dare say it's going to be one of the more unusual episodes we've ever done." Gubler tells Hollywood.com. "I'm very proud of it. They gave me a lot of liberty to be strange and what we put together will hopefully be something memorable—in a good way." Well it wouldn't be Criminal Minds unless there was a little bit of strange, right?
So let's get straight to it! What atrocity is the BAU investigating this week? "I don't want to give too much away but there is a strange man doing strange things that you have not seen on our show before." Basically, there is a psychopath on the lose and out team is discovering a series of male bodies that have been oddly disposed of. Gubler continues, "It's a little bit of a surprise mid-way through you realize what this deranged gentleman is doing, but I'm very proud of it."
Luckily for you we love details, so we pressed Gubler to give us a few more specifics on just where these bodies will be found. The actor explains, "You'll be seeing these bodies all throughout. It takes place in Winslow Arizona and they'll be in some boxes, tight-fitting boxes kind of strewn around town with maybe some fingernails painted, maybe some hair done in a particular way, and there may be some tissue paper involved." Does anyone else think that these sounds like the worst possible holiday gifts ever? Gubler laughs, "Yeah! That's a good way of looking at it, I consider this my horribly wonderful Christmas gift to TV."
Fans of crime-solving smartypants Spencer Reid will be intrigued to know that his love lift is about to get a serious boost. "Reid has fallen in love with a woman that he has never met: a brilliant geneticist who he has struck up a sort of pen-pal ship with which then turned into a phone call romance." Gubler continues, "She is sort of in hiding, she was stalked for about a year by a very dangerous person and she finally wants to meet face-to-face in this episode." Aww! How sweet, and a bit bizarre.
Unfortunately, if you are expecting love at first sight, think again. We first need Reid to agree to actually met up his dream girl. The actor/director says, "Reid is sort of hesitant, he loves her mind so much and on the off-chance that she doesn't like him, he's a little bit worried." Wait. Why on earth would she not like him? We looked to Gubler for a peek inside the special agent's brain, "Well, like me he has very little self-esteem, very little confidence in anything besides solving crimes." Well, We have a feeling this girl is going to fall head over heels for Reid's brain and Gubler's good looks.
You can check out Criminal Minds tonight on CBS at 9 PM.
Follow Leanne on Twitter @LeanneAguilera
[Photo Credit: CBS]
MORE:
Mandy Patinkin Calls 'Criminal Minds' the 'Biggest Public Mistake' He Ever Made
'Criminal Minds' Star Thomas Gibson Teases Possible Finale Death — EXCLUSIVE
Paget Brewster Announces She's Leaving 'Criminal Minds'
You Might Also Like:

Jake Harper to Disappear on 'Two and a Half Men'? 6 TV Kids Who Vanished