Matthew Perry Stars in a New Sitcom: Have the 'Friends' Alumni Evolved?

It was announced today that Matthew Perry would be taking a new sitcom role—NBC is placing Perry in the starring role of Go On, a single-camera comedy about a sportscaster who becomes begrudgingly attached to the mandatory group therapy sessions he is forced to take after suffering some kind of personal loss.
Not long ago, Perry headlined another sitcom: Mr. Sunshine, a vehicle for a similar character—an emotionally closed off man on a reluctant path of growth after a breakup—which found an early mortality. Despite obvious superficial differences, Perry's Sunshine character was quite familiar: sarcastic and immature, but also clever and generally good-hearted. In other words, Chandler Bing.
Perry's post-Friends characters have not been simple rehashes of his most successful role, the statistical analysis executive—also referred to as a "transponster"—and compulsive joker who was never too comfortable with open intimacy, but there are clear similarities between Chandler and all the Perry roles that have followed (it doesn't hurt that Go On is being handled by Friends writer/producer Scott Silveri, either).
Is this a testament to Perry, or something that all of the Friends have had to deal with? Have they evolved as actors, or are they still up to the same shtick?
Jennifer Aniston is widely considered the most commercially successful cast member to come out of Friends. Since the show ended, she has starred in dozens of comedy films—many being part of the rom-com variety. A good deal of these roles have seemed more or less interchangeable: from Rumor Has It… to The Switch. Whatever surface differences these characters have, they are all more or less your typical Jennifer Aniston work, whereas Rachel Green was a role that grew substantially throughout her years on the show. However, Aniston seems to be branching out a bit with recent projects. Her Horrible Bosses role took the actress far from her usual nice girl type, placing Aniston in the position of playing vindictive, perverse, and far from her Rachelian pleasance.
The rest of the cast members have found most of their post-Friends success in television. Courteney Cox finds herself starring in the cult classic sitcom Cougar Town. For the crux of Friends, Cox's Monica Geller was more or less the levelheaded one of the bunch, becoming a bit more eccentric in later years. Cox's Cougar Town character Jules Cobb is arguably the least sensible of her suburban clique—but Cox is talented enough to keep Jules grounded while still delivering the bulk of the show's comedy. Jules might not be worlds apart from Monica, but her embodiment of comedy and sentiment alike exemplifies Cox's growth in acting abilities since Friends.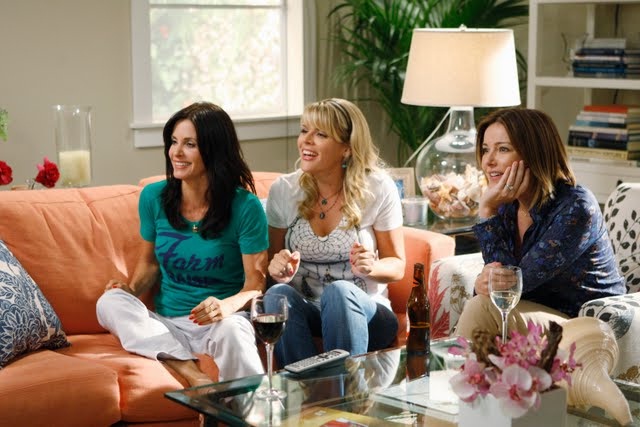 The final TV star of the gang is Matt LeBlanc, who, after an acting hiatus following his failed Friends sitcom Joey (not much evolution there), has taken to starring in a dry HBO comedy Episodes as a satirical version of himself. The onscreen LeBlanc is nothing like sweet and simple Joey Tribbiani. LeBlanc plays a selfish, manipulative Hollywood actor stereotype who brings more harm than good to the projects he's involved in. Although it's a strange thing to say that an actor has "evolved" significantly by playing a fictionalized version of himself, we definitely see a new side to LeBlanc with this series—and playing himself, perhaps the only other role we'd be willing to accept him in, shows some cunning on behalf of the man as well.
Finally, Lisa Kudrow and David Schwimmer. We haven't seen much of either lately. Kudrow has her web series Web Therapy, where she plays a snarky, foul excuse for a therapist to comedic results, and Schwimmer has been voicing a neurotic giraffe in the Madagascar series. Funnily enough, neither of this characters is that different from its respective Friends counterpart. Phoebe was admittedly much kinder than Kudrow's new character, Fiona Wallice. But the main defining quirk in both is Kudrow's oddball flightiness. As far as Schwimmer's characters are concerned, they're both intellectual nebbishes prone to anxiety—but hey, he plays it well.
It's hard to really criticize the Friends cast for staying in step with their old characters. Viewers loved them all so much that it's unlikely they'd be willing to accept any of the actors in role much different. But considering the talent in each of the players, it's only a matter of time before one of them blows America's mind with a role so different that it's hard to believe who we're watching. Just wait. It's coming.