Meet John Maucere, The Super Bowl's Sassiest Sign Language Interpreter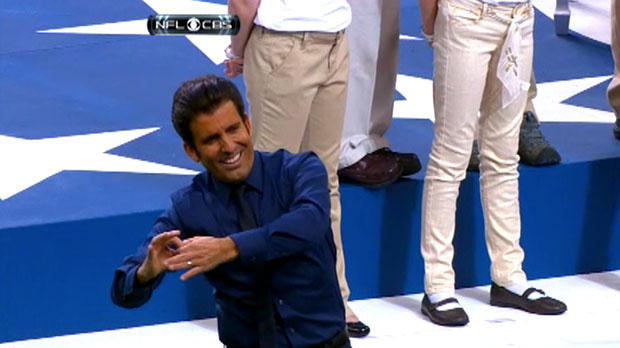 Ever since America fell in love with Mayor Bloomberg's sign language interpreter Lydia Callis in the wake of Hurricane Sandy, it was only a matter of time before another breakout star in the field would worm their way into our hearts. And that time is now.
RELATED: Beyonce Fans, The Super Bowl Has Football Too: 19 Terms to Help You Get Through It
Forget about all the players, the commercials, the Beyoncé, because John Maucere is already the best part of the Super Bowl. Maucere was on hand to sign the songs "America, The Beautiful" and "The Star-Spangled Banner" with more emotion than Jennifer Hudson, Alicia Keys, and the Sandy Hook Elementary School Choir, combined. With a flair for high-drama comedy that only a bona fide Steve Carrell doppleganger could muster, Maucere ushered in the patriotic tunes with the bounce and beauty of a North Dakota-based community theater troupe. And it was glorious.
RELATED: SNL' Recap: Louis C.K. Tried to Make It Fun, Despite the Storm
Though Maucere's big moment came all-too-soon into Super Bowl 47 (XLVII for all you dead language enthusiasts), we know his impassioned performance at the big game will not be left of out most people's highlight reels. Maucere is actually a deaf actor chosen to represent the National Association for the Deaf. His slightly-too-orange-to-be-from-nature-tinged performance was sponsored by PepsiCo in an effort to make the games more user-friendly to everyone. And while Maucere's theatrics were more for the benefit of those who can't hear, it made for a highly enjoyable addition to the sport's biggest night. Watch out, Brick Tamland, if KVWN-TV News Channel 4 in San Diego is ever looking for an emphatic weatherman, Maucere might just usurp you.
Anyone else crossing their fingers for a fabulous Beyoncé/Maucere collaboration at halftime? Let us know in the comments!
[Photo Credit: CBS]
Follow Alicia on Twitter @alicialutes
---
You Might Also Like:

Biden? Ford? Surprisingly Hot Young Pics of Politicians

Who Wore This Crazy Hat?

Stars Who Changed Their Look After Love