Meet the Parents: When Things Get Weird on 'The Bachelor/Bachelorette'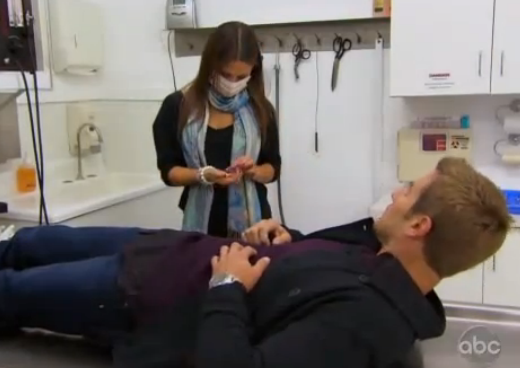 Meeting the parents: awkward. In real life, it's always the sweaty-palm, be on your best behavior situation where you have to play nice to the parents while not making it look totally forced or as though you are a perma-kiss-a**. Now, imagine doing that after having dated a girl/guy over the course of five weeks with 25 other girls/guys, all while cameras are rolling and semi-competitive dates are arranged. Less than ideal, yeah?
With last night's hometown dates out of the way on Emily Maynard season of The Bachelorette, we thought it only fair to add a little bit of perspective to the situation and remind folks that while, yes, Sean's terrible messy room joke was a bit painful, and Arie's mom's insistence on speaking Dutch in front of Emily… while those were both fairly awkward situations, they could've been much worse. Oh my goodness, yes; so, so much worse. Want to know what moments topped those? Read on below for our thoughts on The Bachelor and The Bachelorette's most awkward/cringe-worthy/downright weird moments from hometown date history.
Ames Brown and Ashley Hebert's Awkward Carriage Ride
Poor Ames. He looked like a human Ken doll. He was just so into chivalry and being a nice guy that he forgot to be a man rather than a plastic toy. This was only made worse by the awkward carriage ride where he confessed his love for Ashley and while she tried to be nice. Homegirl was clearly not feeling it.
Melissa Rycrofts's Parental No-Show with Jason Mesnick
This might be more sad than awkward, but when Melissa had to have her hometown at her own place because her parents weren't down on the whole televised-marriage dog and pony show, it made us all feel bad for her and the situation. What was Jason supposed to do outside of what he did, you know? It just seems like you should be supportive of your child when she wants to introduce you to the man she's in true, real-life reality show love with, right?
Ali Fedotowsky's Trip to the Taxidermist
Popsicles and dead animals; you know — just a casual Tuesday evening in the DeWindt household! Kirk's dad was an odd bird, for sure: though he did have so much passion for his (yep, it's happening) pet project. Taxidermy! Because nothing really shows the levels of a person's crazy quite like mounted, stuffed, dead animal heads all over every surface of a space. So gross. Approximately zero point zero percent of the population was surprised when homeboy was sent home after seeing THAT date. Yikes bikes.
Jake Pavelka Meets Vienna Girardi's Dog
Pretty sure Jake only chose Vienna for her dog after seeing this hometown date. Like, how obsessed was Jake with Vienna's dog, right? I mean, those two were in-and-of-themselves one of the most awkward, cringe-worthy, mind-boggling pairings to ever come out of the show, period. But couple that with Jake's dog obsession (who was later, allegedly, a huge problem in their subsequent "relationship"). Chloe, the princess to Vienna's evil queen, had way more chemistry and interest in Jake than Vienna ever could've mustered. And then Jake jokingly (yeah?) admitting that he'd choose Vienna just for her dog? Oh, oh that is rich, my dude.
Shawntel Newton's Deathly Obsession with Brad Womack
Shawntel LOVES her job. Wouldn't you though, if you were a funeral director? Oh what fun! Shawntel was also the nutter chick that showed up out-of-the-blue during Ben Flajnik's season; so you know she's not at all looking for a spotlight or attention or anything. Nope. None of that! I'm not even going to try and explain this one. Best to let the video do the talking:
Naomi Crespo and Jason Mesnick's Dove Funeral
It was tough to call which would be the most awkward. I go back and forth on this one. Why, do you ask? Two words: DOVE FUNERAL. Dove f**king funeral, America. This crazy mother orchestrated a f**king dove funeral. And not just like "oh hey, woops, look what just happened!" situation. No, no, no, no. Momma hit this bird awhile back, and well, naturally what you should do is put that fowl in the freezer until your daughter and a camera crew and her 3-minute-old relationship show up in order to give the thing the service it deserves. I mean, I just can't. I don't even know what to do with this. There are so many things to say. Most of them might be offensive, and they're all terribly judgmental. I mean, it's just… who talks about Jesus and reincarnation and accepting a savior on your daughter's televised meet-the-parents moment? I think they talked about hoola hoops, too. Good lord please make the bad man and lady stop, please! I'm begging you. This is too much awkward for my even my awkward brain to handle: so you know that's saying something. You can watch a clip of it here, if you're into that sort of thing.
Courtney Robertson and Ben Flajnik Get Fake-Married
This is certainly the crème de la crème of hot mess hometown dates. Courtney hit a home run for Team CrazyGirl with her surprise of faux-nuptials and the world's most awkward poem.
What do you think about the hometown shenanigans? Are we missing any of your favorites? Sound off below!
Follow Alicia on Twitter @alicialutes
More:
Bachelor Ben Flajnik Kisses Bikini-Clad Courtney Robertson — PIC
'Bachelorette' Contestant Kalon McMahon Nabs a Spot in 'Bachelor Pad' Season 3 Cast