Melissa McCarthy's 'Saturday Night Live' Promo Proves, Once Again, She's One of the Greats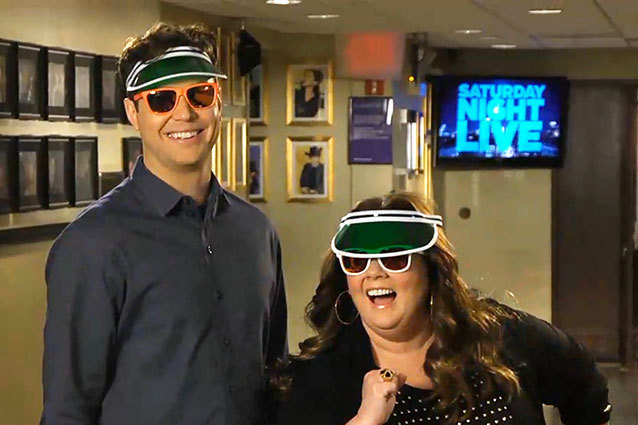 With all due respect to Jennifer Lawrence (don't hear that phrase very often, do you?), we've been patiently waiting for a female host to come in and save the day on Saturday Night Live. Of the 16 hosts that have taken the stage at Studio 8 thus far this season, only three have been women. While they have all been incredibly gifted women willing to go the extra mile for the sake of live comedy (in addition to Lawrence there was Anne Hathaway and Christina Applegate), their episodes didn't quite match their talent. That said, these eps weren't necessarily bad — compared to some of the guys that have hosted this season (Justin Bieber, Daniel Craig) the ladies still have a better batting average. 
RELATED: Melissa McCarthy Joins Bill Murray Flick 
Last time around, SNL pulled out the big guns and brought back the wildly popular fan favorite Justin Timberlake, who entered the Five-Timers Club and scored the show record ratings for NBC. But SNL is about to pull off a one-two hosting punch, and a female is going for the TKO: Melissa McCarthy is returning to host this weekend. If her second appearance is anything like her first, she's going to give JT a run for his money as Season 38's best host. 'Bout time!
RELATED: Justin Timberlake Joins the Five-Timers Club on 'SNL' 
McCarthy, who had a banner year in 2011 with Bridesmaids and her Emmy win, continues to prove she's a comedy superstar. That first SNL hosting gig last season was no fluke, McCarthy (who, in addition to being top-notch on television is also a bona fide box office star) is the real deal destined to go down in the show's history as one of the hosting greats, not just a great female host. Need even more proof? Look no further than the new promo video of McCarthy with cast member Taran Killam, which will make you laugh more than most half-hour sitcoms. 
RELATED: Film Critic Angers Melissa McCarthy Fans With Cruel Description
The Mike & Molly star can balance sharp subtleties (her intentionally awkward exchange with Killam at the beginning of the clip) and physical comedy (cool guys with visors!) expertly and with equally hilarious results. Check out the video here, which features a very funny bit about McCarthy forgetting Killam's birthday in the midst of baseball season. And, of course, tune in on Saturday night when she hosts SNL with musical guest Phoenix and undoubtedly makes all the funny ladies proud.