Meryl Streep, Rosie O'Donnell Get a Round of 'Web Therapy' in Season 2 Premiere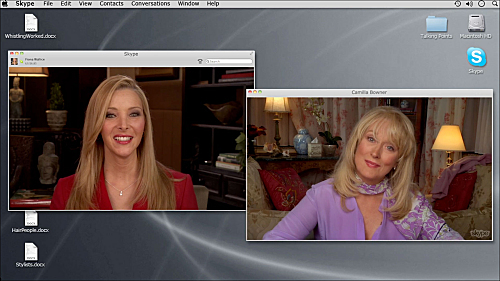 Showtime's
Lisa Kudrow
-powered vehicle
Web Therapy
, like actual therapy itself, can be an exercise in patience, but one that offers some big, satisfying payoffs. While the banter in the web-to-cable-television comedy can border on downright exhausting (like in therapy, you might find your mind wandering more than once) Kudrow delivers enough mercilessly funny one-liners that with such perfect comic timing to keep you invested. ("I wasn't raised in the Catholic church, although I wish I had been as a child, those wafers look delicious.")
Take for instance the Season 2 premiere of Web Therapy, which premiered last night on Showtime and is now available to watch, perhaps more fittingly, on the web. While it's easy to analyze that Web Therapy, like HBO's Veep, is a dark, uncomfortable comedy anchored by a true comedy legend, the difference between Julia Louis-Dreyfus' flawed, foul-mouthed Selina Meyer and Kudrow's uptight, indistinguishably accented Fiona Wallice, is that Meyer's madcap personal and work life flow together effortlessly, while Wallice's feels confined. 
Another issue is that a great ensemble player like Kudrow often has to work solo. While the
Friends
alum's interactions with
Alam Cumming
(hell yes, 
Romy & Michele
reunion!) and guest stars like
Meryl Streep
and
Rosie O'Donnell
are priceless (Streep's hilarious turn as a mousy therapist working with Kudrow's husband, played by the always great
Victor Garber
, makes the premiere worth watching alone for her misunderstanding of the word "pied-à-terre") the comedy can often times feel as disconnected as a bum Skype connection. 
While Web Therapy may have worked better as an online series, it's one worth checking in with from time to time. Kudrow is unquestionably the main draw here, it's her band of Internet-relegated misfits that help make this show tick. Plus, no other summer series can boast having Meryl Streep pen a book called No One Says You Have To Like It, Sex Tips for Ex-Gays. Watch the premiere here: 
[Photo credit: Showtime] 
More: 
Matthew Perry Stars in a New Sitcom: Have the Friends Alumni Evolved?