Michael Phelps To Appear On Golf Series That's Somehow Not Called 'The Golfin' Dolphin'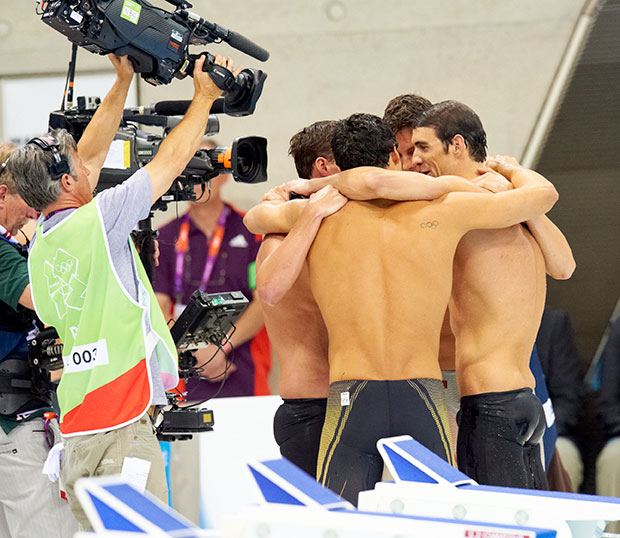 Michael Phelps is taking this whole retirement thing pretty seriously. After becoming the most decorated Olympian of all-time by winning a staggering 22 gold medals in his career, Phelps is doing what so many do after an illustrious career: working on his golf swing. 
The Golf Channel announced today that Phelps will appear on the upcoming fifth season of
The Haney Project
, their series in which famed golf instructor
Hank Haney
, who has worked with the likes of
Tiger Woods
, helps golfers work on their swing. (It's thrilling, but no
Lee Carvello's Putting Challenge
.) 
"I have traveled the world through swimming, but really haven't had an opportunity to experience the world through my travels," said Phelps, pictured here with his teammates at the 2012 games. "As I enter this next chapter of my life, I think I will be able to shift my competitiveness to anything I put my mind to and golf is one of the things I want to focus on. If I have a goal of dropping a certain amount of shots, or working on my short game or putting, those things are going to keep me motivated and fire me up and keep me excited. I want to play all the world's great golf courses, but I'd like to play them well. I'm excited about this project with Golf Channel and I'm looking forward to working with Hank and see what we can do together on the golf course."
Mike McCarley, President of the Golf Channel, said of Phelps' upcoming appearance, "We look forward to chronicling Michael's transition from the most-decorated Olympian in history to a frustrated golfer trying to enjoy playing the world's greatest golf courses. Golfers everywhere will be able to relate to his quest to improve his game."
While Phelps will join the line of other stars who have learned from Haney on the series, including
Charles Barkley
,
Adam Levine
, and
Ray Romano
, it really just seems like a wasted opportunity to have a reality show entirely about the athlete learning how to function as a land mammal who moves from the pool to the golf course called
The Golfin' Dolphin
. Better yet, a series that chronicles the 27-year-old's retirement as a whole, from golfing to moving into a condo in Florida to forgetting to turn off his left turn signal. (Hey, we've got a whole bunch of ideas for
Olympians inevitable forays into reality television
!) 
Will you watch Phelps when he's on The Haney Project? Or will it be too unnatural to see him out of a pool? 
[Photo Credit: Getty Images] 
More: