How to Make Michelle Williams' Reality Show Amazing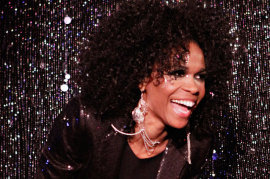 By now, you've probably heard that Michelle Williams (not that one) has her own reality show on the way to coincide with the release of her newest gospel album. Apparently, just standing next to Beyonce with a practically muted microphone during the Super Bowl halftime show is enough to prop anyone back up into the spotlight. Congrats, Michelle-Williams-who-isn't-dating-Jason-Segel!
But if you were ever a fan of Destiny's Child, you know that Williams is the one member of the trio (we're only counting the Beyonce-Kelly-Michelle era version of the group, here) who never managed to have a thing. She was always the group member who got stuck wearing the experimental version of the outfits Beyonce's mom made for the other two girls. Her solos always landed during the parts of the song where the singer has to compete with the music. Poor Michelle was always the third wheel in the Kelly and Beyonce show. And now that she's doing a reality show about making a gospel album, even those of us who practically threw impromptu parties when Beyonce unexpectedly announced the Destiny's Child reunion are wondering what this show could possibly do to spice it up.
RELATED: In Praise of Beyonce and Destiny's Child at the Super Bowl
Here's what it would take:
1. Every episode would also feature blond, pixie actress Michelle Williams, and hilarious hijinks would ensue when the two ladies' paths were inevitably, accidentally crossed.
2. Williams would have to admit that she was the least-appreciated member of Destiny's Child and then (and this part is key) tell us how she really felt about being thrown into that role. (Basically, we're hoping for some s**t-talking).
RELATED: Michelle Williams Didn't Congratulate Beyonce for Blue Ivy's Birth
3. Needs more Beyonce. It's not a pleasant thought, and I'm not proud of it, but the thing that makes Williams interesting is that she knows Beyonce, the de facto Queen of the Universe (of the moment). Beyonce, or GTFO. 
4. Scrap the recording of the gospel album. Of course, by all means do it when the cameras aren't rolling, but give this girl some wacky hijinks to do. Keeping Up With the Kardashians only works because we fell victim to the confounding family when we heard Kim had made a sex tape. Give us something to hang on to, or this will be a snooze. 
5. I was serious about the Beyonce part. You can't have a show about a member of Destiny's Child and not have Bey in it at least once. Ladies' vacation? Come on, it can't be any worse than the the Sex and the City movie. 
[Photo Credit: Cindy Ord/Getty Images]
---
From Our Partners:


25 Forgotten Celebrity Crushes of the '90s (Vh1)


30 Stars Who Have Gone Topless (Celebuzz)