Mick Jagger On 'Letterman': 10 Things Learned After 50 Years in Rock N' Roll — VIDEO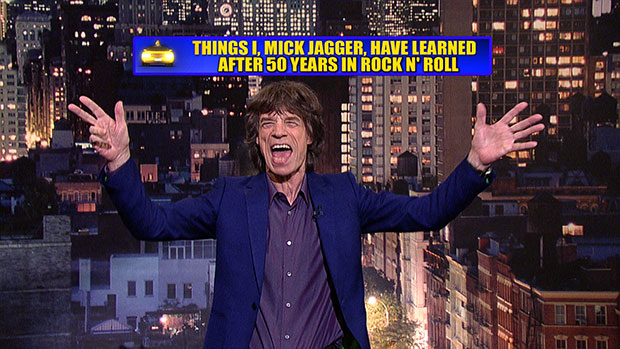 Fifty years in the biz is sure to teach you a thing or two, especially if you are Mick Jagger. And sex and drugs are just a few of the topics that you study as a rolling stone. When there is a song out there about your dance moves and you have been around the world and then some, there surely is a story to tell. Jagger stopped by the Late Show With David Letterman Tuesday night to present his top 10 list of the things he has learned after 50 years of being a rock star.
Jagger presents "The Top 10 things I, Mick Jagger, have learned after 50 years in rock n' roll":
10. Nobody wants to hear anything from your new album.
9. Never take relationship advice from Phil Spector.
8. Before shouting, "Hi, Seattle," make sure you're in Seattle.
7. You don't earn a cent when someone does a song about having "Moves Like Jagger."
6. Everybody you meet after you become famous is only interested in you as a person.
5. Song royalties are great, but even they can't match the guaranteed cash flow from a reverse mortgage.
4. A good way to keep yourself entertained is to sign every tenth autograph "Doris Goldblatt."
3. Be considerate of other hotel guests — trash your room by 10 PM.
2. You can't always get what you want — like a good joke on the top ten list.
1. You start out playing rock n' roll so you can have sex and do drugs, but you end up doing drugs so you can still play rock n' roll and have sex.
[Photo Credit: CBS]
More:
Mick Jagger and 'The Help' Director Feel Good About a James Brown Biopic
Sean Penn + Robert Smith + Nazi Hunting = 'This Must Be The Place' — TRAILER
'SNL' Promo: Mick Jagger Scolds Kristen Wiig For Wasting Magic — VIDEO
'90210' Star Shenae Grimes' Engagement Ring (FIRST LOOK PHOTOS)

Kim Kardashians Best Bikini Moments (PHOTOS)