'@midnight' Gives Us a Taste of What a Full Reunion of 'The State' Might Look Like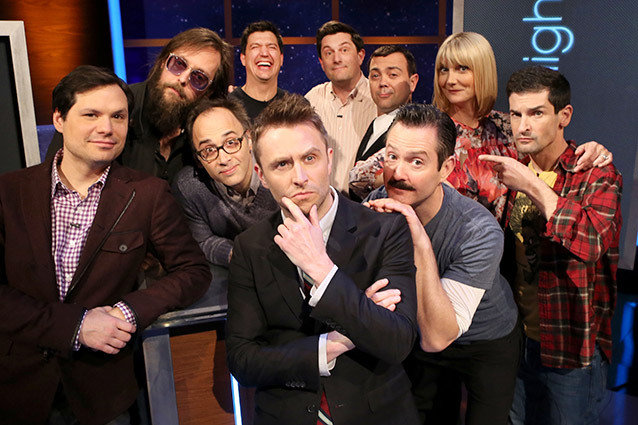 Comedy Central
Chris Hardwick has fashioned quite a nice career for himself by celebrating his geeky inclinations. And on Monday, Jan. 27, he played host to the reunion of the favorite troupe of many a comedy nerd: The State.
The episode of @midnight started with three comic contestants, just like any other — this time, The State veterans Michael Showalter, Kerri Kenney-Silver, and Michael Ian Black. As they off-handedly insulted their "absent" or possibly "dead" friends, each one of them popped up in the studio. Soon, all eleven members of group were on stage.
The venue makes sense, since Hardwick and The State  are all survivors of '90s MTV and must have crossed paths in the hallways a few times. And that makes this episode of @midnight essential viewing for anyone who stayed up late to catch Singled Out  or Black and Thomas Lennon as Barry and Levon, rubbing their butts in "$240 worth of pudding."
If this is the jumping off point for a larger scale reunion, we now know what to expect. We'll get to hear our favorite catchphrases, for sure. Showalter was cut from the game first and reacted as his most famous character, disaffected teen Doug, certainly would have. ("I'm outta heee-reee.") And Ken Marino cut right to the chase when he was introduced, letting us know exactly what he wanted to do with Louie's famous ping pong balls. Joe Lo Truglio will probably wear a tux, as he has been ever since Brooklyn Nine-Nine won a couple of Golden Globes. And the comics will continue trying everything they can to make each other laugh. In the final round, when the contestants threw joke after joke at their straight-faced former costars, Michael Ian Black pointed out that it looked a lot like a The State pitch meeting.
For the love of Barry Lutz and everyone down at the Porcupine Racetrack, let's hope that this little get-together was a sign of bigger things to come.