'Mike & Molly' Scoop: 5 Sweet Teasers From Tonight's Valentine's Day Episode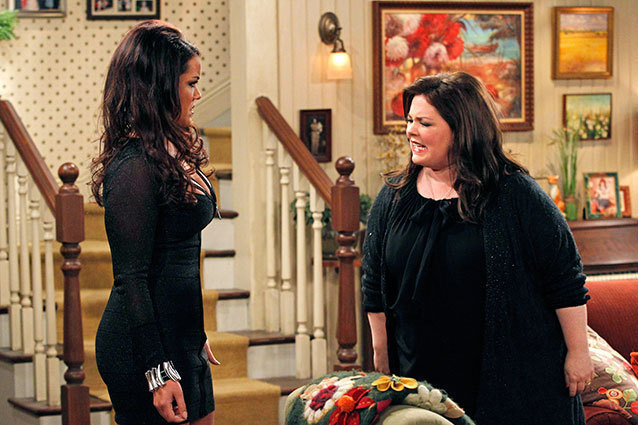 Grab your favorite box of chocolates and make a date with your couch because cupid's in town on tonight's all-new Mike & Molly. We've already watched the hilarious new episode, "The Princess and the Troll," so we've decided to gift you with an early Valentine's Day present. In lieu of sending flowers, we've compiled a list of the top five, sweeter-than-candy, moments from tonight's V-Day themed adventure. You're welcome! Read on for all the heart-warming scoop below.
RELATED: 'Mike & Molly' (Season 1) TV Stills
1. Baby Maybe? Mike (Billy Gardell) and Molly (Melissa McCarthy) are still hoping to get a bun in the oven, so they're having "baby sex" as often as they can. But what makes this type of lovemaking different from others? Mike bluntly explains, "It's half the passion and twice the work." Zing!
2. Lost Love: We all know Harry (David Higgins) as Mike and Molly's know-it-all friend from Overeaters Anonymous, but did you know he's got a heart-wrenching past? Nearly a decade ago, Harry proposed to his girlfriend on Valentine's Day and was left with a broken heart and a two-pound box of chocolates.
3. Laundromat and Ladies: Valentine's Day is filled with plenty of single ladies, wallowing in self-pity — and these are exactly the type of women that Carl (Reno Wilson) and Samuel (Nyambi Nyambi) are hoping to snag on February 14th. Rather than head to a bar or a club, Carl decides that a laundromat is the perfect place to meet a nice lady and get a sneak peek at her delicates at the same time. Samuel says it best, calling his friend a "perverted genius."
RELATED: The Price Is Still Right: CBS Renews Entire Daytime Lineup
4. Matchmaker Molly: Touched by Harry's story at O.A., Molly is determined to help their friend find a sweetheart for Valentine's Day. So Molly decides set up her sister on the date — and in a shocking yet sweet twist, Victoria (Katy Mixon) says yes!
5. Dating Dress Code: While Molly is telling her sister to "Strap 'em down!" (referring to her busty shape), Mike is advising Harry to "Let 'em breathe" (referring to his sweat-prone armpits.) Watching these two prepare for their date is definitely a hilarious highlight of the episode, but the question remains: Does the date actually happen?
Tune in to tonight's all new episode of Mike & Molly on CBS at 9:30 PM to find out!
Are you excited to see Mike & Molly's Valentine's Day-themed episode? Should out your thoughts in the comments below!
Follow Leanne on Twitter @LeanneAguilera
[Photo Credit: Robert Voets/Warner Bros]
---
From Our Partners:

Grammys: 11 Most Memorable Gifs (Celebuzz)

20 Worst Outfits at the Grammys (Vh1)