Mike Wallace, '60 Minutes' reporter, dies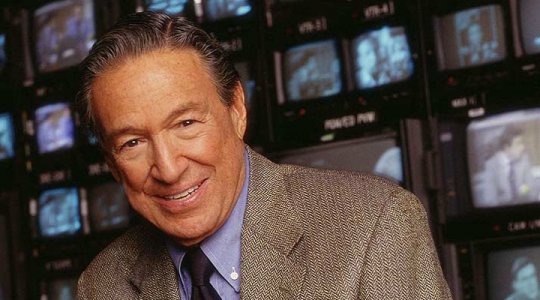 Mike Wallace, the Emmy-winning CBS journalist most well-known for his work on 60 Minutes, has passed away, according to CBS News. Wallace, who died at the Waveny Care Center in New Canaan, Conn., was 93 years old. Though the exact cause of death has not yet been released, Wallace had a history with heart problems, undergoing a triple bypass surgery in 2008. 
Though heralded for his work in news, Wallace began his career as a game show host for programs like The Big Surprise. In the late 1950s, he moved into journalism, hosting The Mike Wallace Interview on ABC before jumping to CBS, where he became one of the first correspondents for 60 Minutes. While working for 60 Minutes, Wallace developed a reputation for his tough interviewing style, grilling some of the world's most influential leaders and taking on some of politics' biggest scandals, including Watergate. In fact, Wallace's interviews with the likes of John Erlichman helped the then-ratings challenged 60 Minutes gain traction.
Wallace's famous interviewing tactics were also seen on the big screen — Christopher Plummer portrayed the CBS newsman in the 1999 film, The Insider, which chronicled
60 Minutes
' report on Brown & Williamson whistleblower Jeffrey Wigand. Jeff Fager, CBS News chairman and
60 Minutes
executive producer, released the following statement about Wallace's passing: "All of us at CBS News and particularly at 60 Minutes owe so much to Mike. Without him and his iconic style, there probably wouldn't be a 60 Minutes. There simply hasn't been another broadcast journalist with that much talent. It almost didn't matter what stories he was covering, you just wanted to hear what he would ask next. Around CBS he was the same infectious, funny and ferocious person as he was on TV. We loved him and we will miss him very much." [
CBS News
]
Image Credit: CBS News