Mike White Talks About The Rally Cry of 'Enlightened' Fans and What Season 3 Would Hold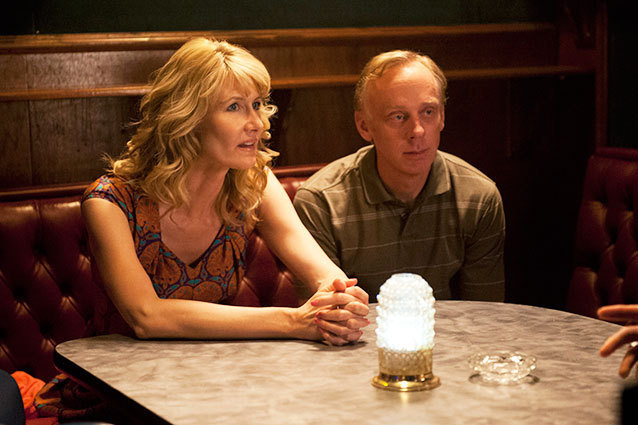 The road to enlightenment is long and difficult. The road for  Enlightened, the HBO dramedy about a woman who turns her nervous breakdown into a corporate take down, has certainly been difficult, but it tragically and unjustly might not be very long. But, as Laura Dern's Amy Jellicoe might muse in a calm voiceover, "Something is shifting, a revolution is happening. Change is in the air, can you feel it?" Over the past few weeks a groundswell movement from devoted fans and critics of the beloved, albeit low-rated series, has begun on Twitter and it's only growing. Everyone from actor/comedian Patton Oswalt to New Yorker critic Emily Nussbaum have tried to get the word out about the Golden Globe-winning Enlightened before it's too late.
The second season of the show (which was downgraded from ten episodes to eight) comes to a close on Sunday night, with no definite word on whether it will be back for a third season. But those who believe in the magnificent show aren't going to stop fighting the good fight. The pleas of those very fans aren't going unnoticed either, at least not by the show's co-creator and writer Mike White — who also plays Amy's heartbreakingly simple partner-in-crime at Cogentiva, Tyler (White more accurately described him as "a sweet simp…who has his own issues with revenge")— certainly has.
RELATED: 'Duck Dynasty' Premiere Breaks Ratings Records 
"It's awesome, regardless of whether we get a Season 3," White tells Hollywood.com. "As somebody who spends a lot of time on the show and wants people to like what we're doing, it's nice to be affirmed. Whether its meaning more people have found the show or just they're now voicing their like for the show. For me, it's just… nice to know that the audience that has found it, it's something that they feel strongly about."
White acknowledges Enlightened's deficit in the already overcrowded Sunday night lineup: "We've kind of had a hard run. We started up against the Golden Globes, and then there was the Grammys, and the Super Bowl, and the Oscars. Every event that's being televised against us," and the creator has noticed the shift in attention towards the show. "At the beginning I was like, 'Is this even registering?' It was kind of a bummer because I was proud of the season, I'm proud of the show, and I was like, 'Is this just a tree falling in the forest?' I didn't really want to go through that with this. That's why, for me, it's like whether we get another season or not — obviously I would prefer a third season or multiple seasons — just hearing that people have found it is enough."
While White doesn't know if the rally cry has been heard by HBO, he's hopeful that it will. "I know that this kind of thing is meaningful to them, I'm sure that they have a system in place to keep their ear to the ground about it. At the same time, it's hard. Girls is a huge show, as far as buzz, and magazine covers, and getting a ton of copy, and awards. And yet I don't think the viewership is huge. With us … it's difficult, because how many shows can you keep alive based on an ardent, but small fan base?"
"At the same time," White says, "there is a part of me, and maybe this is just wishful thinking, [that feels] something's happened the last couple of weeks and more people will find the show. And if we did come back, it would be a little less of a hard sell to reorient this in the landscape."
RELATED: 'Girls' Renewed For Season 3 
If the fan movement does work, White notes it would almost be, in a sense, life imitating art. "We did an episode about Twitter. [So] it's ironic that if we do get a third season it might be Twitter that actually saved the show. Seeing that firsthand is kind of trippy, in a way. You see these people that keep beating the drum on Twitter and then you see, 'All right, because you told me to, I'm gonna watch the show, and then they come back and they're like 'I love the show!' It's like seeing word of mouth, you're eavesdropping on the world, in a sense."
If word of mouth pays off (fingers crossed) and HBO gives Enlightened another go, White said he already has ideas lined up for Season 3. "Obviously there's personal stuff with Amy left unexplored," White said, including her relationship with her on-the-mend ex-husband Levi (Luke Wilson). "Certainly at the end of the [second] season, it's not clear if they are going to rekindle their relationship. Or is it now a friendship? If we had another season, there's more shoes to drop with them and more interesting ways to explore their relationship."
"But as far as the bigger canvas," White continues, "I feel like Abaddon sues [Amy] and she sues Abaddon and all these people have to be brought in. Now it's all about, who is Amy Jellicoe? Is she this righteous whistle blower or she a crazy vengeful slut who's bent on revenge of a company that's only done good things by her? And having all these people — from the Cogentiva people to Krista (Sarah Burns) — and having them be allies or adversaries in the world of depositions and that kind of thing."
White said he's not opposed to bringing back Season 2 newcomers like Eileen and Jeff, played by Molly Shannon, and Dermot Mulroney, respectively: "With Molly and Dermot, absolutely, I feel like they're still part of the story, but it's all depending on if they want more and how much do they want." But there's also room for even more characters to be introduced for a third season. "We were intending to, this last season, introduce Amy's estranged sister into the show. She's been mentioned in certain episodes, but we've never seen her. I was actually halfway writing that episode when I heard from HBO that we were only going to do eight episodes instead of 10, and then it just felt like there was too much going on. So next year that would be something we would do."
NEXT: What else White has in store, and why the finale won't end on a cliffhanger.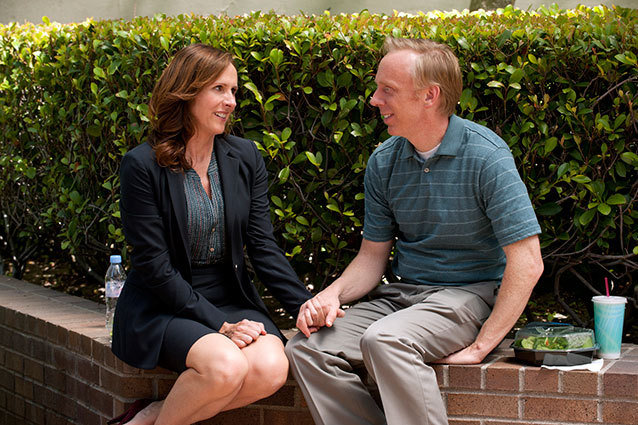 White would also likely bring back some of his interesting narrative elements for a third season…

Those heartbreaking voiceovers: "It started in the first season where Amy and Levi go on a river rafting thing and the voice over got really heavy and I felt very choked up by the whole thing… I like that it can do that. I like having an emotional catharsis. The hope is that the tone from week to week can be elastic."

The POV episodes, which they did with Helen (played by Diane Ladd) in Season 1 and Levi in Season 2. White mused about Levi's rehab episode from this season: "I've been in those kind of places, not necessarily rehab, but group experiences where you're looking around and you're like, 'Ugh, these people are crazy and they're all ridiculous,' but at the same time, at the heart of it is very sincere and people trying to connect even in their painfully awkward way."

"The show has a different structure than most shows in that it has only an A-story, when it's Amy's story, it's all her story and you only see the other characters through her eyes, through a very subjective point of view," White says. "When you have a good cast like Luke Wilson and Diane Ladd, you feel like, well you don't wanna just short-shift them and have them constantly be seen in the way Amy sees them or used in the way Amy uses them. In order to step out of that, it felt like we needed to preserve the structure of having an A-story, but just switch focus to somebody else. As a writer, it couldn't be more fun to step out. In a way, it makes you appreciate Amy even more. You see her differently because the way the other characters, not necessarily in a good way, like in Tyler's episode you see her as like a potential villain. By the time he finds his love with Eileen, now Amy is like a serious obstacle to that."

Amy being seen as a potential villain is not unheard of when it comes to some viewers who see Dern's crusading antihero as a tough pill to swallow. "We never set out to make a portrait of a saint who is sticking it to the man," White said. "When I wrote the first episode [of the season] I was like, "Wow, she's like a suburban Notes from the Underground anarchist, taking on the man in this amusing way. I had this idea that she would see herself as part of this crew of Black Panthers, leading an army of an insurrection against power and than by the end of the episode all she really managed to accomplish was getting the one person of color [Jason Mantzoukas' Omar] fired from her office."

RELATED: 'Arrested Development' Might Just Have One New Season on Netflix 

"I think this is often true of life with whistle blowers, there often is a revenge element, there's often a selfish element, delusions of grandeur kind of thing, wanting to be the star of their own," he continued, regarding a character as complex as Amy. "At the same time, I wanted the company to have issues so its not some kind of female Taxi Driver. I get a lot of pleasure out of those kinds of characters, turns out not everybody does.

"It's fun to have a character that you can have two readings of and they may be opposing readings, but they both are valid," White continued. "Even her relationship with Krista, I see some people online are like, 'Krista's such a bitch!' Or any time that Amy talks to Krista, they're like 'Leave her alone!' It gives you a sense of what the viewer's affinities are, as much as it is the character herself. Some people have no patience for this kind of person and other people identify with her. What I don't want is for people to dismiss her. I just don't want it to feel like what we're doing is satirizing that kind of person, that's certainly not the goal. But I also didn't want to create a character that people felt was just a saint or somebody who could exist on a CBS show or something."

White said that when it comes to finding a balance of comedy and tragedy for not only Amy, but the show itself, has been an important one. "I find as a viewer when I go to see comedies the strain to be funny throughout the whole thing, I start to lose my sense of reality and it ends up feeling like an empty experience, there's funny stuff in it but I've lost the emotional connection to the characters because it's just so bananas. At the same time I see dramas and its like, this doesn't feel like my reality because there's no absurdity or sense of humor. I guess i'm trying to write stuff that I, as a viewer, would connect to."

Describing Enlightened as "a morality farce, in a sense" ("In the Buddhist tradition, every action has a negative and positive reaction. Even if you have the best intentions, are you trying to be a catalyst for change? There's gonna be some people who are hurt by what you're doing"), White assured that no matter what happens to the show, fans won't be left wondering about the fate of the characters.

"I kinda outlined the whole season before I start writing. You only have so many episodes, especially when you have as much plot as we have. We had a lot of balls in the air by the end and we kinda need to know how this is going to land, or I'm going to be in trouble as a writer. I wasn't going to go into it as a cockeyed optimist thinking we would get another season because our ratings were so low the first year. Just as a cultural artifact, sometimes these things live longer and people find it more if they feel like its a complete thing, so I really didn't want to leave it on like the biggest cliffhanger and have people think its like this abortion. So I wanted it to feel like it had a satisfying end, but at the same time I feel like all the characters are in a bubble that's so easily burst, that it's not over if they allow it."

Leave it to White to make an analogy for the potential of saying goodbye to the show that would make Amy would so get: "I liken it to if you go to a shrink its like you don't wanna start with a new shrink and have to explain all this shallow stuff again. It's like now you're deep into it, you can get into the even deeper stuff, and that's what I hope a third season could be: even more psychologically deep." Fans would, no doubt, be ready to dive in.

[Photo credits: Lacey Terrell/HBO]
---
From Our Partners:


Justin Bieber Celebrates 19th Birthday, Loses His Pants (Vh1)


60 Celebrity Bikini Bodies: Guess Who! (Celebuzz)