7 Music Festival Clichés 'The Mindy Project' Got Right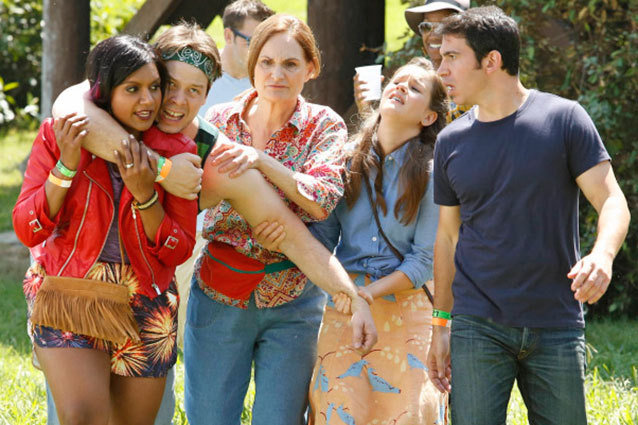 FOX
Dr. Lahiri got out of the city and onto some reappropriated upstate farmland this week on The Mindy Project, when her former pastor boyfriend booked a DJ gig at the fictional Pennyfarthing Music Festival. Casey, aka DJ Sacrament, is delighted by every hula hoop and old-timey mustache he sees. While Mindy, like any self-respecting city dweller, finds the whole thing to be a little aimless. "Like the '60s," she says, "but without any kind of higher purpose." Road trip episodes are always good for a change of pace, and this one also allowed Mindy Kaling and her fellow writers to send up every annoying aspect of these indie rock fests. We hold the following music festival truths to be self-evident.
1. "Is there going to be a single black person performing at this festival?"
If you mean the bands Black Kids, Black People, or The Black Keys, then yes. If you mean actual black people, then no, probably not.
2. Gratuitous shirtlessness
Mindy's lightning-fast indoctrination into festival culture comes courtesy of a really, really big dude, whose unclothed girth "rolls" into her mouth.
3. Adults in dumb costumes
A quick scan of The Mindy Project's well-cast and accurately wardrobed extras reveals fairy wings, flower crowns, weird animal masks, and the aforementioned handlebar mustache. For some of us: Halloween. For hipsters: a Tuesday.
4. The square who takes it all too seriously
Dr. Castellano forgoes that whole "free spirit" thing in favor of a well-studied map and an "in case we get separated" plan.
5. Performance art that's no different than what you'd see during kindergarten freetime
And if you don't give it a wide berth, then you'll end up an unwilling participant.
6. That special soul dancing all by himself
Where are your friends, dude? Should we call someone?
7. The guy who gets stoned and thinks he's invincible
We wouldn't be surprised if Morgan's pot cupcake binge and cannonball onto solid ground are based on a true story.
More:
Which is Worse: 'The Crazy Ones' or 'We're the Millers'?
'Grey's Anatomy' Actors Who Should Make Guest Appearances on 'Scandal'
Making Sense of the 'Vampire Diaries' Season Premiere
---
From Our Partners:


40 Most Revealing See-Through Red Carpet Looks (Vh1)


15 Stars Share Secrets of their Sex Lives (Celebuzz)