Miss Universe: 10 Things It Taught Us About Pageants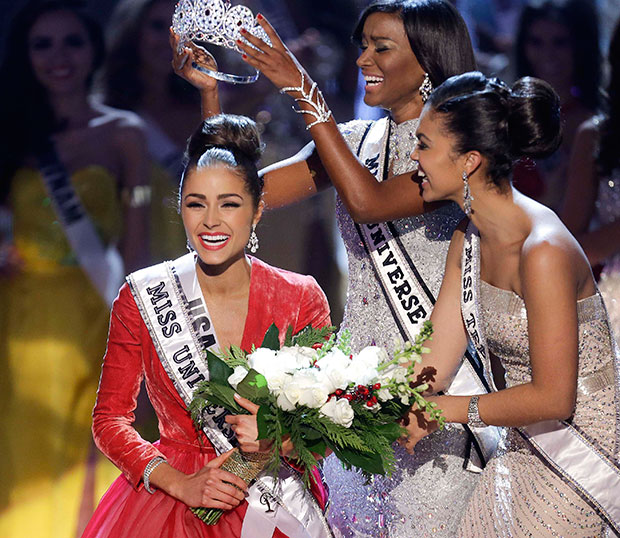 If aliens ever crash land on Earth, there's going to be a lot of things we are going to have a tough time explaining: the continued success of Adam Sandler, Crocs, and Black Friday mania. But none may seem more strange to our cruel intergalactic overlords than the Miss Universe pageants. Not only are we going to have to explain why we didn't let them compete in this bizarre tradition (Earthlings win the Miss Universe competition every year) but we're going to have to explain the competition all together. Heck, even mere mortals have a hard time wrapping their heads around this outdated practice. 
But that doesn't mean that there aren't plenty of universal truths that we can all understand from the Miss Universe pageant. Here's what we learned from the 2012 competition, which aired on Wednesday night on NBC: 
Miss Universe Contestants Only Do Things in Montage Form: They go to spas in Las Vegas, they do the "Gangham Style" dance, they eat at Buca di Beppo (hope you got the Pope room, ladies!), they hawk products in a way that slightly looks like a poorly made infomercial or late night phone sex commercial. Usually set to elevator music, the most beautiful women from around the globe (see, watching Animaniacs paid off) can do anything, so long as it's in a well edited montage. 
Like Buddy the Elf, Smiling Is Their Favorite: For two hours, the women competing not only have to stand perfectly poised, half naked in high heels, but they have to do it while smiling. The entire time. Unblinking, void smiles that they must continue doing even when you lose. You have to smile while your dreams are dashed and you have to smile while someone like Scott Disick judges you. 
The Swimsuit Competition Makes You Feel Terrible: You can tell yourself the Miss Universe is a sexist, archaic institution (because it is) that you are above (you are) but watching lithe, beautiful women in bikinis while you watch in your sweats in the wintertime will make even the most headstrong women feel bad. Not only about themselves, but about the fact that this is still a way women are judged in the year 2012. 
One of the Contestants Will Say Something That Reinforces Every Stereotype About Beauty Queens:
For every beauty pageant competitor that is a smart, focused woman (this year alone, there was a woman who graduated at the top of her class) trying to squash the stereotypes that they are just Barbies being paraded around with no substance, there's one that swoops in and kills the whole thing for everyone. While Miss South Carolina set the standard during the
Miss Teen USA
pageant back in 2007, Miss Venezuela gave her a run for her money during the 2012 Miss Universe competition, with this gem of an answer when asked if she would create any new laws: "I think that any laws in constitution or in life are already made. I think that we should have a way to go in our or similar in our life…for instance, I am a surfer, and I think that the best wave that I can take is to wait for it so, do our only law that we can do."
The Announcers Will Go Overboard With Their Pronunciations: Brazil isn't Brazil during the Miss Universe pageant, it's Brraaaaazzzeeeeeeel!
The National Costumes is the Best Part: Imagine if Carnivale or a drag queen competition went overboard with their costumes, then you might just come close to the outfits that are worn by the contestants that represents, in excessive fashion (literally), their country. So why, oh why, did NBC choose not to air this gaudy, over-the-top, vaguely racist segment? Why?!
Co-Host Andy Cohen Is Actually The SNL Parody Of Himself:
 When
Taran Killam did his hilarious impression
 of the Bravo host earlier this year, it had to be an exaggeration of his bubbly personality and utterly ridiculous existence on television, right? Wrong! Cohen, who co-hosted the evening with
Giuliana Rancic
, actually exclaims things like "Okay, this is fun!" and congratulates Miss China, winner of the National Costumes, "Mazel!" 
We, As A People, Let Train Happen:
 It was bad enough that we let them be famous back in 2001, but we have given them a comeback. We're letting
Pat Monahan
and his actually insane lyrics back into the national consciousness and we let them perform on our bizarre televised rituals. We can't wash our hands of this, people of Earth. 
Donald Trump Is A Goon:
Is it ironic that we let someone who
looks
and
behaves
like he does run a beauty competition or just plain sad and frustrating? 
If It's Held in America, C'mon, Of Course Miss USA Is Going to Win:  
Even though she was dressed in a velvet, sleeved gown and said the one thing she wouldn't do in her life again was pick on her siblings (despite the fact that she said she didn't regret it) Miss USA
Olivia Culpo
(pictured) won the Miss Universe pageant during a year it was held in America and when Miss Australia probably should have won, because of course. 
[Photo credit: Photo Credit: Julie Jacobson/AP Photo]
More: 
The Five Most Amazingly Outrageous Moments of the Miss USA Pageant