Mitt Romney Declines Invitation to Appear on Nick's 'Kids Pick the President' Special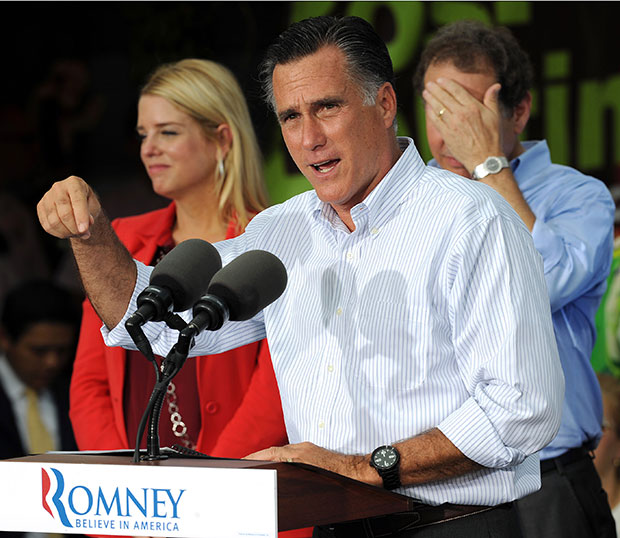 First Big Bird, now this? It seems Mitt Romney is not exactly earning the favor of the youth of America, as the GOP candidate has snubbed Nickelodeon on his campaign trail as well. (Watch your back Dora the Explorer!) 
Romney declined the cable networks' invitation to appear on their
Nick News Kids Pick the President: The Candidates
special, which allows young viewers across the country to ask questions to the candidates regarding the upcoming election. 
According to a statement from Nickelodeon released to Hollywood.com, "After numerous attempts by Nick News to get former Governor Mitt Romney to participate in the special, his camp declined saying he was unable to fit it into his schedule.  The special features previously taped video clips of Romney addressing some of the issues raised in the questions, as well as bios of both candidates." (Hollywood.com put out a request to Romney's camp for a response, but could not be reached in time). 
President Barack Obama
, on the other hand, has opted to participate in the
Linda Ellerbee
-hosted special. The Commander-in-Chief, whose segment was already filmed, talked about a wide variety topics, answering questions from kids about same-sex marriage, gun control, illegal immigration, jobs, outsourcing, the obesity epidemic, and bullying. Obama also opened up about some lighter subjects, like his most embarrassing moments. "Running into the wall is par for the course for me. I'm running into doors and desks all the time," he admitted. 
Ellerbee said of this year's Candidates special, "By answering kids' questions directly, candidates show respect for kids. We are disappointed that Mitt Romney wouldn't take the time to answer the questions, but are thrilled that President Obama participated in the special."  The special, which will feature President Obama airs on Oct. 15 at 8 PM ET on Nickelodeon. On Oct. 22, the network will reveal the results of which candidate the kids picked. Granted, these young Americans aren't of actual voting age, but the kids might be on to something. Five of the last six winners of the Nick News special have gone on to win the presidency, including Obama in 2008. 
So how can Romney make it up to all the kids out there before all those lame grown-ups get to vote in the election on Nov. 7? We've got a few ideas! 
– Officially change his name to Mittens. 
– Announce
SpongeBob SquarePants
as his new running mate. Sorry
Paul Ryan
, you should have had squarer pants. Also, try to make iCarly the new Secretary of State. (Though her allegiance may remain with the Obamas since
the FLOTUS' visit
). 
– Ensure that Angry Birds, the Penguins of Madagascar and the Teenage Mutant Ninja Turtles are protected under environmental laws. 
– Change his slogan from "Believe in Amerca" to "One Direction: America". 
– Get slimed. It's the only real solution that can right this wrong. 
[Photo credit: WENN.com] 
More: