Mitt Romney Finds a New Celebrity Endorsement From…Mr. Burns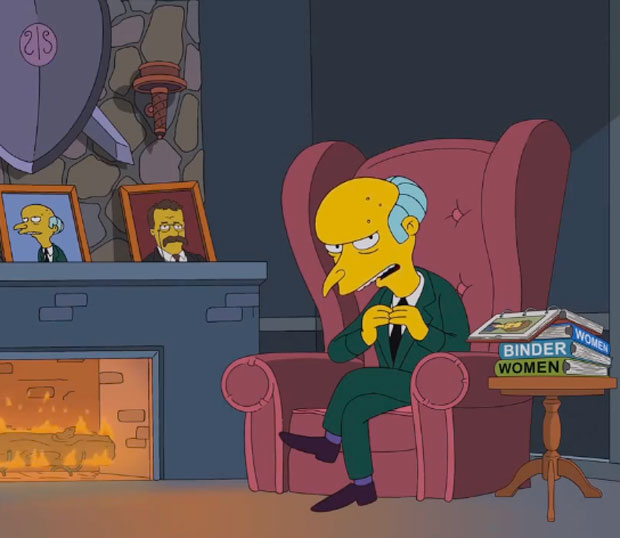 Release the campaign support videos. And the hounds. 
Filmed at the Springfield Republican Headquarters (where their motto is We Win in 2012 or Your Money Back… it works on so many levels)
The Simpsons
' most prominent evil person and Republican (unless you count the
Kelsey Grammer
-voiced Sideshow Bob), Mr. C. Montgomery Burns shows his support for GOP candidate
Mitt Romney
in a new campaign video. 
Of course, it's no surprise that Mr. Burns or Springfield (which
George H.W. Bush
once called home) would show support to Romney. After all, they both have pretty similar outlooks on wealth and certainly on
the environment
. (In the clip, Mr. Burns calls the American landscape "ripe for drilling and mining and exploiting.") 
With the help of Mr. Smithers (who, presumably, is a
Barack Obama
supporter despite his unwavering allegiance to Mr. Burns), Mr. Burns explains that it's not the damaging 47 percent tape or
Clint Eastwood
's invisible chair act or even "tax returns
Wesley Snipes
would call suspicious" that is hurting Romney's chances for election, rather that infamous story about the time that the Romney clan turned into the Griswolds and strapped
their family dog Shamus
 to the roof of their car during a road trip. 
Rather than deny the incident, Mr. Burns lets a still-shaken Shamus decide between the real candidates: Broccoli Obama and Meat Romney. Overwhelmed and underwhelmed by the choices, Shamus then does what so many of us probably felt like doing during the campaign season and jumps out of the window. Watch the very funny video here: 
The Simpsons returns with a new episode on Sunday, November 4. Just in time for the election. Eeexxxxcellent. 
[Photo Credit: THE SIMPSONS ™ and © 2012 TCFFC ALL RIGHTS RESERVED]
More: 

Country Music Association Awards 2012: See the Best-Dressed Stars of the Night (PHOTOS)
(Celebuzz)