'Mob Doctor' Star Jordana Spiro Teases Gnarly Surgeries & Romantic Complications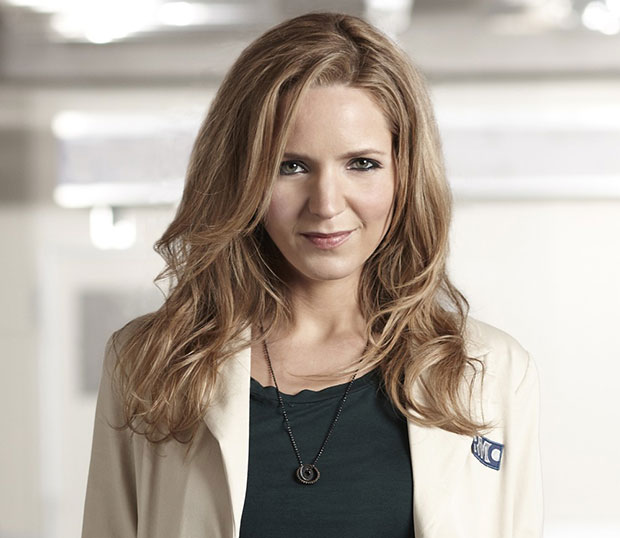 While House fans may be mourning the loss of their beloved, cantankerous hero now that the series has ended, Fox has a plan for filling the Monday night void left by the long-running medical drama: The Mob Doctor. And while star Jordana Spiro won't have a knack for hobbling around on a cane like Hugh Laurie or miraculously escaping the mob debt hovering over her head, she does have a few other special skills.
In a conference call to promote the series, Spiro teased her character's MacGyver skills. Spiro's Grace Devlin is as tough as the South Side of Chicago where she grew up, and in the third episode of the inaugural season, she proves it. "I had to check for internal bleeding on a restaurant kitchen table. The only thing I could use were tubes from the back of a vending machine," she dishes.
And while viewers are sure to be impressed by Grace's gumption, it was her peers who were truly taken aback. Series creator Josh Berman (Drop Dead Diva) adds, "It is the most incredible scene. When the editor first saw the rough cut of it, he called all the producers in, just to show us her performance." For Berman, it's Spiro's added detail that makes scenes like this one. "We call it a dirty medicine scene. When we're on Jordana's face, she is so intense. It was so gratifying when she's able to lift the material like that," he says.
Of course, that's exactly what you want from a series that takes a South Side girl and places her under a mob microscope in a shiny new hospital – a few pitch perfect instances of "dirty medicine." Still, the series isn't without its romantic issues. It's drama, for godsakes. Berman was wise to tease a bit of the entanglements our not-so-good doctor might find herself in. Dare we say, something of a love triangle? "You're going to see both her relationship with Brett (Zach Gilford) get a lot deeper… and you're going to see her relationship with Franco (James Carpinello) become a lot more interesting, I should say. There's a whole arc planned for Grace's love life, which is very much informed by her personal and professional pressures that will begin to unfold over the first half of the first season," he says. There we go. Nice and complicated.
The Mob Doctor premieres Sept. 17 at 8 PM ET on FOX. Will you watch?
Follow Kelsea on Twitter @KelseaStahler
More::
'The Voice' Bests 'The X Factor' In Ratings Battle
'X Factor' Recap: You Can't Be Pretty and Talented