'Mockingbird Lane' Pilot React: A Halloween Special Not So Special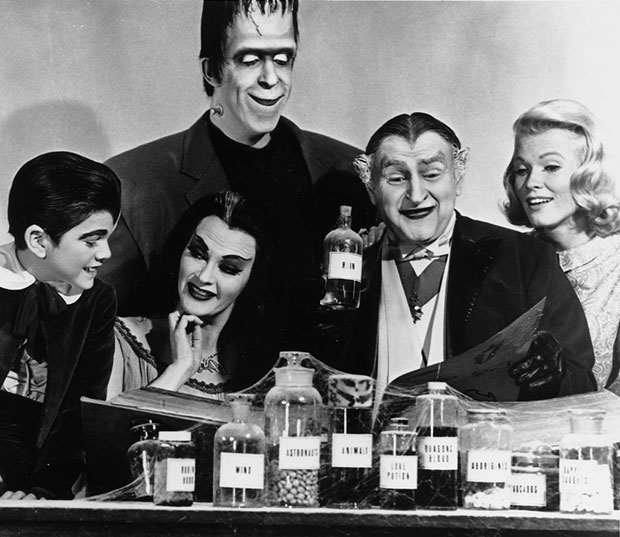 Okay, we get it. Black magic is nothing to joke about.
Two weeks ago when we told you NBC's plan to air the Mockingbird Lane pilot — the axed series about a revamped Munster family — as a Halloween special, we joked the show could get a lot of viewers — and a second chance at life — if a blizzard forced everyone inside. We were kidding. Joke. Joke.
But Munsters fan — and Mother Nature — must have been listening, because Friday night was eery for more reasons than the spooky show. Hurricane Sandy was working her way up the East Coast, bringing with her enough wind and rain to make most too scared to leave the house. Mission accomplished.
However, the same can't be said for the show itself. We tried to keep an open heart, er mind, about the Munsters version 2012, but Bryan Fuller's remake was missing the ease and humor that made the original series a success.
Unfortunately the clever writing: "The circle of life has a violent shape." "It is when Grandpa is drawing it." And who else caught the Apple start up noise when Grandpa rebooted Herman's heart? — was overshadowed by the dramatic storylines and seemingly unnecessary gore. All we kept thinking was, seriously, this show is airing at 8pm? We weren't even entirely sure we were old enough to be watching it.
We will say you could certainly see why the show cost $10 million to make. The sets in the one episode alone were elaborate, and special effects like nothing we had seen in a TV show in a while. Though we could have done without the visual of Grandpa swooping down to eat the lion as if his life depended on it. Oh wait. But that wasn't the only time the seemingly slow show could have picked up the pace a bit. To be fair, it was hard to tell how long the scene really lasted as we had our hands firmly planted over our eyes. Seriously, this show is airing at 8pm?
We will be anxious to hear what will become of this axed series, but for us it was neither a trick nor a treat.
[Photo Credit: CBS]
More:
Save Mockingbird Lane — the Munsters Are the 99%
Walking Dead Season 3 Photo Puzzle: Almost There! — EXCLUSIVE CONTEST
American Horror Story: Asylum: Watch the First Five Minutes Now!
From Our Partners:

'Bring It On' Star Struck By Car and Killed
(Celebuzz)

Kardashians Share Scary-Cute Childhood Halloween Pics
(Celebuzz)