'Mockingbird Lane': These Are Not the Munsters We Once Knew — VIDEO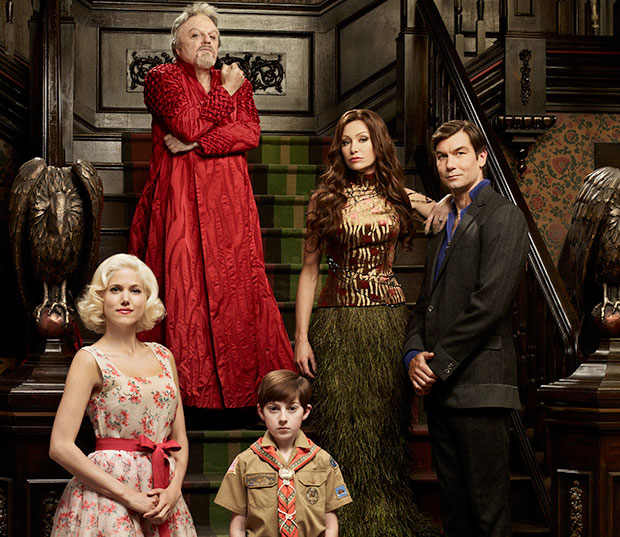 The Munster family that Bryan Fuller has brought to life in his forthcoming pilot-turned-Halloween special titled Mockingbird Lane is one grand leap from the clan we met back in the 1960s (remember? You were there). Following the NBC show's first trailer and a vividly macabre set of images, a new clip introduces patriarch Herman and his young son Eddie — respectively a Frankenstein's Monster and werewolf cub in their original incarnations, but here not apparently monstrous in any significant way (other than the notable stitching scar wrapping the former's throat).
The below clip teases our expectations of the Munsters' traditional form in the opening shot, posing Herman (Jerry O'Connell) in such a misleading light to suggest a flat dome and bolted neck. But his and Eddie's (free of fangs or pronouncedly pointy ears) physiques are not the only dissimilarities fans of the classic sitcom will notice. Herman, once a well-meaning, dimwitted everyman, has apparently transformed into a fast-talking aristocrat, more than comfortable with manipulating his son into believing falsehoods about a bear attack that prompted their domestic relocation. He's a different man altogether.
But we shouldn't be automatically averse to change. Maybe the times call for a new Herman, a more sophisticated patriarch. Can the Munsters operate with a Herman whose head is screwed on straight? Fans will have to find out if the formula works come Friday, Oct. 26.
[Photo Credit: NBC]
More:
New Photos from 'Mockingbird Lane' Get Us Excited for Halloween
Save 'Mockingbird Lane' — the Munsters Are the 99%
'Mockingbird Lane' Pilot Brought Back from the Dead as NBC Halloween Special
From Our Partners:

Jessica Biel Shows Off Wedding Ring After Marrying Justin Timberlake in Italy — PHOTO
(Celebuzz)

Kristin Cavallari Doesn't Want to Plan a Wedding Right Now, Says She's Focusing on Motherhood for Now — EXCLUSIVE VIDEO
(Celebuzz)