'Modern Family' Cast Sues to Void Contracts During Salary Negotiations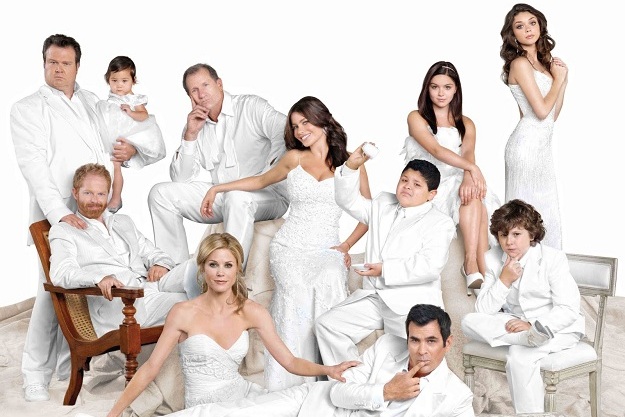 Happy families are all alike; every unhappy family is unhappy in its own salary negotiations. According to The Hollywood Reporter, all six of the lead cast members on ABC's Modern Family — Ty Burrell, Sofia Vergara, Jesse Tyler Ferguson, Eric Stonestreet, Julie Bowen and Ed O'Neill — have filed a suit today with the Los Angeles Superior Court to void their contracts with 20th Century Fox Television, the producers behind the Emmy-winning comedy. (Although O'Neill was not involved in the original iteration of the suit, THR reports that he has joined his five co-stars "out of solidarity.")
The full lawsuit, obtained by
THR,
 can be read
here
. An excerpt from the suit highlights the violation of California's "Seven-Year Rule," which "dictates that contracts to render personal service 'may not be enforced beyond seven years from the commencement of service under it.'" Since the
Modern Family
cast signed agreements in 2009, and since their agreements stretch beyond seven years, the plaintiff performers are thus declaring that their contracts are illegal and void.
Don't be alarmed: the cast is not necessarily leaving the show. If Burrell, Bowen, Ferguson, O'Neill, Stonestreet and Vergara successfully void their contracts, they can start on a fresh slate with their current renegotiations, which have been an ongoing struggle.
Earlier today the show postponed a scheduled table read (
as tweeted by show creator Steve Levitan
) that would have unofficially marked the beginning of production (on behalf of the actors) on the show's fourth season. According to earlier reports, the cast had entered into negotiations together in order to demand a salary in the vicinity of $200,000 an episode — a distinct hike from their previous salaries of $65,000 per episode (for all but O'Neill, who is on a separate payment track). 
A rep for 20th Century Fox Television could not immediately be reached for comment.
Follow Marc on Twitter @MarcSnetiker