'Modern Family': The Show Where Nothing Ever Happens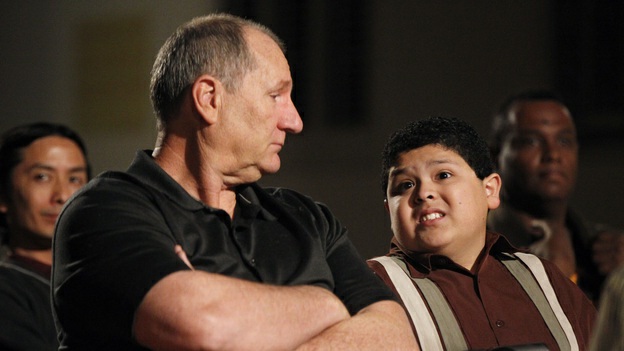 Midway through the third year of watching Modern Family, you pretty much know the drill. As soon as the opening tag kicks in, you can tell, "This is a Phil-agitating-Claire" episode, or a "Mitchell-arguing-with-Cam" episode, or the coveted "Luke-and-Manny-up-to-something" episode. The show is nothing if not consistent — and it has managed to uphold this formula for so long because its entertainment is in genuinely likable and relatable characters. But eventually, something needs to change.
Someone has to go through something, be it positive or negative. The family needs to take on some kind of a challenge beyond the easily forgettable arc about Claire running for office, or Mitchell and Cam's often overshadowed story about adopting a second child (in real life, this is for sure a significant, emotionally trying experience… but when it comes to television, it's a story about trying to get a second kid doesn't ever really hit home as hard). The Season 3 finale makes some headway in this area, but is it enough to keep the show fresh for a fourth year of Pritchett/Dunphy/Delgado/Tucker madcappery?
The problem with Modern Family is that there isn't even really room for too many changes to occur. The structure of the show is built around the family unit. If you compromise the unit in any major way — via a breakup, an affair, a death, a relocation — you change what the show has established itself to be, both in composition and in tone. Modern Family can have touching or somber moments, yes, but it is a comedy. Its life-blood is the laughter. Most of these changes you'd need to make to really liven up the show would involve some pretty heavy drama.
So how about smaller changes? A few of those would have to add up, right? If you've seen the Season 3 finale (if you haven't, beware: there are actual spoilers ahead), you know that Gloria is expecting her second child, and that Haley has been accepted to college. Both of these are promising, but not enough on their own to kick start the show's life force. The finale also suggests that Alex might be interested in breaking free from her "perfect child" mold… gradually. Very gradually. Watching Alex explore some of the wilder, darker areas of teenhood — a world completely new to her — could very well be a lot of fun. Plus, as Luke ages, he's bound to get himself into different preteen and teenage experiences. Girls, for example. Growth for the Dunphy children will open plenty of doors.
Too many minor changes would obviously pose a problem. Nobody wants to see Modern Family throw everything out in favor of jazzing things up. What the show has been doing for three years works; it just doesn't always work, and can't work forever.
It's possible that the producers will find the happy medium between jumping the shark and things growing stale in Season 4. Better yet, maybe the writing will reach Season 1 standards to the point where the comedy more than makes up for a lack of plot advancement. Either way would be a win, and definitely something for which many of us are hoping. Modern Family is a good show that deserves to thrive; it's one we'll want to see carry on as long and strong as possible. But if Season 3 is any indication, the program has lost some of its steam.
Now, a Dylan spinoff on the other hand…
[Image Credit: ABC]
More:
Modern Family Season Finale React: She's Having My Baby
Don't Trust the B in Apartment 23 Finale: Really Good Shitagi
Revenge: How Could You Leave Us Like This? 16 Frustrating Unanswered Questions