Mr. Feeny Will Spread His Wisdom in 'Girl Meets World' Pilot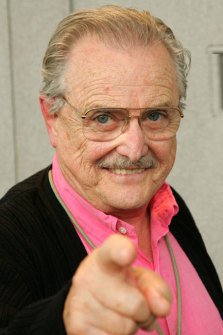 Seems like we can expect plenty of life lessons for Cory and Topanga's daughter, as Mr. Feeny has joined the cast of Girl Meets World.  TVLine reports that William Daniels' visit to the Girl Meets World set on Thursday was for business, not pleasure.  
The Huffington Post has confirmed that while Daniels will indeed be a part of the pilot, fellow set visitors Rider Strong (Shawn Hunter) and Will Friedle (Eric Matthews) were only just visiting. For now… 
RELATED: 'Boy Meets World' Reunion on 'Girl Meets World' Set
Executive producer Michael Jacobs told The Hollywood Reporter  in late January, "Whoever wants to be part of this show will be and whoever wants to move on will." He explained, "The most important thing is to see what the show is and then see what their part in it will be. Will Friedle said, 'I will be at every taping.' Everybody is quite attached to it. The bottom line is: Will Rider or Will be a cast member? Will they put in appearances? Maybe, maybe not. We'll see."
We shall see indeed. But, as of right now at least, Friedle is living up to his promise. 
RELATED: Meet Cory and Topanga's Son
While Mr. Feeny, everyone's favorite overly-involved principal, is a sure thing, it remains to be seen what role Feeny will have this time around. Will he still be spreading his wisdom from the classroom pulpit, or will he be relegated to the role of wacky next door neighbor? Only time will tell. 
[Photo Credit: WENN]
---
You Might Also Like:


Topanga's Revealing Lingerie Shoot: Hello '90s!


25 Stars Before They Were Famous