Is Your Dad a Bro? MTV Wants to Help!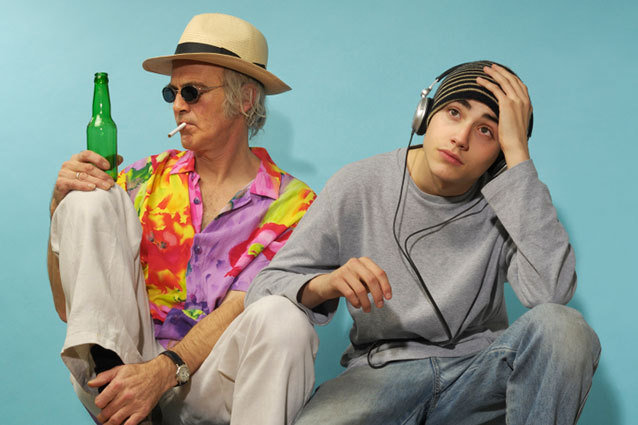 MTV's True Life has done an admirable job of documenting the unique struggles young people face for the past 15 years. Specials on topics ranging from drug addiction to Tourette's syndrome have brought lesser-known — but still very important — issues to the public attention. Now, an unspecified MTV docu-series is focusing on one of the most pervasive problems plaguing our society today, and that problem wears Axe body spray, polo shirts, and watches a lot of SportsCenter.
That's right: the network that brought us a documentary on a teenage boy receiving a cochlear implant that made me cry so hard my neighbor came over to ask if I was okay is now investigating bros. More specifically, the phenomenon it's dubbed as "bro-dads."
RELATED: 2013 MTV Movie Award Nominees
What is a bro, you ask? Well, the ever-reliable Urban Dictionary defines bros as "18-25-year-old white upper middle class males who attend universities, and are usually members of fraternities. During free time they enjoy playing sports such as ultimate frisbee, lacrosse, flag football, fishing, and beach volleyball. They are knowledgeable about most spectator sports and attend sporting events regularly. Bros are often actively involved in fantasy football, and will form leagues with other bros. They enjoy attending suburban house parties and frat parties, and are skilled at most drinking games."
Apparently, though, even the middle-aged aren't spared from the perils of Call of Duty addiction and scruffy facial hair. But MTV wants to help. The network recently released a casting call on its website for dudes whose dads can house way more Dorito Loco tacos than they can.
Check out the full post and see if you've noticed any of the warning signs in your own parent. For the betterment of society, or something:
Does his over-the-top personality make him the center of attention everywhere he goes? Do your guy friends want to hang with him while your girlfriends just love to be around him? Does he help you snag the hottest dates or dress like all the guys you know? Maybe he's even better than you at throwing parties, video games or sports. If you appear to be between the ages of 18-24 and your Dad is the life of the party, who acts more your age than his own, MTV wants to hear from you! Send us an email to mybrodad@gmail.com and tell us about your Bro-Dad. Make sure to include current photos of you and your Dad, the city you live in and your contact information.
Follow Jean on Twitter @hijean
[PHOTO CREDIT: Jac Depczyk/Getty Images]
---
From Our Partners:


Kim Kardashian's Maternity Style: So Wrong? (Vh1)


60 Celebrity Bikini Bodies: Guess Who! (Celebuzz)