MTV Movie Awards: 10 Moments You Need to Know About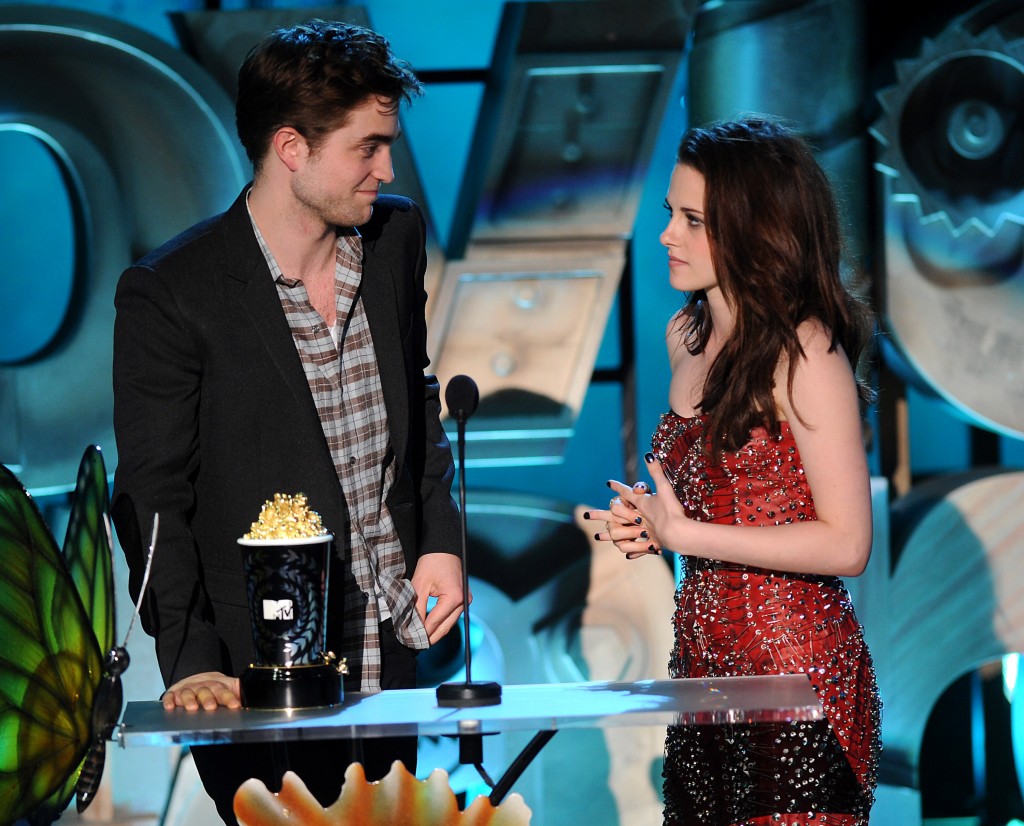 Last night was the MTV Movie Awards, or the Twilight Superfan Explosion. Vampires took home most of the popcorn trophies and even beat out Mila Kunis and Natalie Portman's makeout from Black Swan for the Best Kiss Trophy. Yeah, I was confused too. Well, the awards may be useless, but so were most of the jokes. Even so, there were a few things that went down that you should probably be aware of, you know just in case you weren't sitting in front of the television at 9 p.m. on a Sunday night listening to terrible jokes about The Hangover Part II and Arnold Schwarzenegger.
1. RPatz drops the F-bomb, in generally a doofus
Now, before any Robert Pattinson fans crucify me for calling their sparkling boy a doofus, let me rephrase that: he's a very handsome, charming doofus. He may brood all over the screen in the Twilight movies, but last night, he was a bumbling, nervous dork. (But yeah, it was still kind of hot.) Of course, the big moment everyone will be talking about today is the fact that while he was giving the MTV Generation Award to Reese Witherspoon, he dropped a big ol' f-bomb — and the folks on the East Coast actually heard it because the censors were sipping on whatever made Reese so freaking giggly as she sauntered up to that stage.
2. Our anger over "I want to get chocolate wasted" being the best quote of the year is quickly quelled by an adorable acceptance speech by Alexys Nycole Sanchez
Seriously, that line is pretty awful. I was hoping for Tom Hardy's line from Inception, but it seems that that movie can't win anything at something as highbrow as the Oscars and it gets snubbed at the lowbrow MTV Movie Awards. Sorry, C.Nols. Also, sorry for that nickname, I'll never use it again. Anyway, this lame line from Grownups won, but as soon as that little girl jumped up onstage in her fluffy pink dress and starting being the cutest little kid ever, we all had to shut up and say "aww."
3. Emma Watson was counting the minutes until she could leave, visibly shook her head at KStew's awful (drunk) acceptance speech
Hermione wasn't having any of last night's antics. She's too smart for all this dumbassery. Dragged there by publicists (in an amazing dress, I might add), Watson was charged with presenting a clip from The Deathly Hallows Part 2 and losing the Best Female Performance award to Kristen Stewart. Sure, it was funny seeing Watson look as bored as the rest of us, but the best shot came when Stewart drunkenly tried to make a joke about beating Natalie Portman and Miss Emma shook her head in disapproval. Sore loser? I don't think her lifelong goal is to have a giant can of metal popcorn, so no. (We're with you, Emma.)
4. Gary Busey presents Movie of the Year in a giant hamster ball
It was probably the most appropriate display of decorum towards the awards show throughout the entire evening. You think this award means something, entire cast of Twilight? Well, guess what. No one cares because you're sharing the stage with America's favorite crazy person as he rolls around in a giant version of a toy made for tiny, fuzzy rodents. Deal with it.
5. Reese Witherspoon gives naked photography advice to Blake Lively
Besides the fact that Ms. Witherspoon appeared to have had a little too much bubbly before getting onstage to accept her generation award, the best part was the fact that homegirl had the guts to call out Blake Lively for taking nude photos of herself with HER FACE IN THEM. We've all been thinking it, apparently all we needed was America's sweetheart to get drunk and put it out there on a silver platter of public shame. Sorry, Blake.
6. Sway still has a job
Remember Sway? The MTV VJ with the giant, dumb hat that resembles a cartoon octopus? The one who's such a mumbler that his announcements are virtually useless? Apparently, he's still on the MTV payroll, charged with adding useless commentary in between the actual awards show and the commercials advertisers paid stupid amounts of money for us to mute and ignore while we walk to the kitchen to get another beer.
7. JT fondles Mila Kunis…and she fondles him back
You need an explanation for this one? Really? There's video evidence. That should do.
>br>
8. RPatz kisses TayTay
And we were all just relieved that we wouldn't have to see Pattinson awkwardly try to kiss Stewart onstage.
9. Justin Bieber making girls scream won Best Jaw-Dropping Moment over everything interesting
Okay, we knew this would happen, but REALLY? Justin Bieber gets onstage, performs, makes girls scream and cry. THIS IS JAW-DROPPING HOW? Hell, I'd have taken the literal shit-storm from the Jackass dudes over Beiber. I'm still not sure why that hangnail scene from Black Swan didn't make everyone gasp so hard they passed out. I'm getting lightheaded just thinking about it. (Maybe because the only people who actually vote for these awards are too young to get into a rated-R movie.)
10. Twilight won EVERYTHING ELSE
Seriously. It should have just been called the Twilight awards. THOSE MOVIES AREN'T EVEN GOOD. Pattinson, Lautner and Stewart were hopping around that Willy Wonka-rip off of a stage like they owned the place. Here's a tip, kids: these awards aren't representative of the entire nation, just the entire nation of vampire-lovin' tweens. Your reign will end, and when it finally does, the rest of us will be waiting at the other end with terrible jokes. At least Tom Felton took home the Best Villain trophy — Harry Potter fans were seriously lacking this time around. IT'S YOUR LAST HURRAH, WHERE ARE THE VOTES? You guys let sexy vampires win over the battle to save the entire world from VOLDEMORT? Fail. Giant, epic, colossal fail.