MTV Really Really Really Wants 'Buckwild' to Be the New 'Jersey Shore'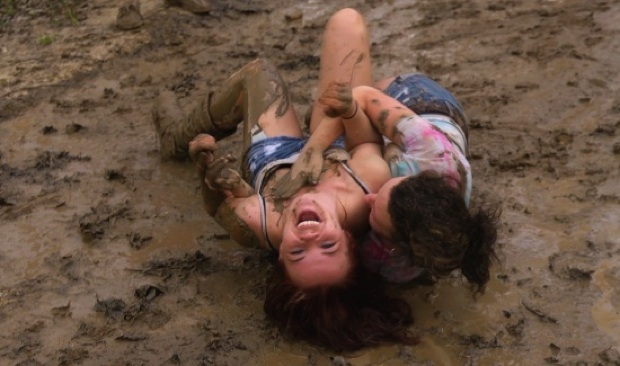 Tune into MTV for crazy accents, trashy clothes, insane stunts, falling over, drunken fights, sloppy hookups, run-ins with the cops, yelling on your cell phone while not wearing any pants. No, I'm not talking about Jersey Shore (which is now more about babies, sobriety, and celibacy) but about the network's new show Buckwild. Since Snooki and her crew have grown up and moved on, cable's former home of music videos is hoping to continue it's streak of being America's premiere broadcaster of sociological experiments with fringe socio-economic groups with strange behavior, language, and morals.
Buckwild follows a bunch of teens in West Virginia, one of whom proudly declares that he does not have a cell phone (is he even human?). The show's trailer (which seems like a more appropriate term than ever) debuted last night during one of the final episodes of This Used to Be Our Hot Tub, a show which defied everyone's expectations and became a cultural phenomenon. The parallels between the two isn't implicit, it is explicit. "New MTV series Buckwild promises to bring all the region-specific appeal of Jersey Shore when it premieres just after New Year's," says MTV's website says. They might as well have just said, "We really need you to watch it because we ran Jersey Shore into the ground and you're just not watching I Just Want My Pants Back like we hoped you would, so here we are. Pay our rent."
I don't know that lightening can strike twice. One of the great things about JS when it debuted was that there was nothing like it before and the eight guidos on the show were their natural selves. That down-and-dirty authenticity is what drew viewers in (well, that and the GIF of Snooki getting punched in the face). These rural teens were raised watching Seaside Heights and they'll be trying to be their most outrageous, to craft their catchphrases, and to cash in on their moment in the sun. Sure, watching them might be amusing fun (I can't wait to see that insane lady in the red wig yell at them) but it's never going to be as good as Jersey Shore, no matter how wild it purports to be.
Follow Brian Moylan on Twitter @BrianJMoylan
[Photo Credit: MTV]
More:
Goodbye, 'Jersey Shore': A Eulogy for an MTV Era
'Jersey Shore' Premiere Ratings Take a Nosedive
'Jersey Shore' Premiere Recap: The Song Remains the Lame

'Friday Night Lights' Movie Not Likely, Says Zach Gilford — EXCLUSIVE

'Les Mis,' 'Dark Knight,' and More: The Best Trailers of 2012