MTV's Pauly D Spin-off: I Want My, I Want My, I Want My Pauly D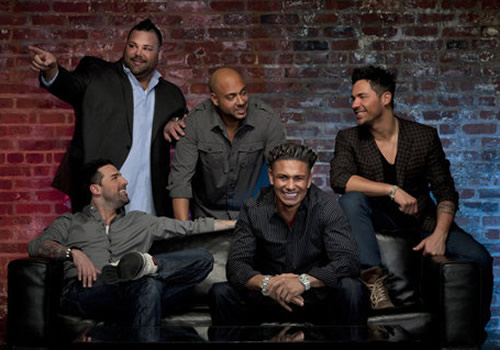 It's true. We can't go a single week without having at least one of the Jersey Shore housemates on TV. In the absence of MTV's favorite series, the network delivered a spin-off: The Pauly D Project. There's just one sizable issue: there's not enough Pauly D. 
The series follows Pauly on his journey to DJ superstardom, starting with a permanent gig at the Palms hotel in Las Vegas. The pilot starts with a glimpse at Pauly's life away from the shore, including his relationship with his father and his relationships with his buddies. But it's all a bait and switch. After we're introduced to his entourage, the show switches from The Pauly D Project to Meet Pauly's Less Famous, Less Interesting Friends. And in truth, they could be nuttier than The Situation and we'd still be asking one major question: where's Pauly?
Pauly D is arguably the most lovable of the Jersey Shore cast mates. He's almost self-aware, constantly mocking his housemates for their absurd behavior. He's like the guy winking at the audience, letting us know he's on the joke too. And perhaps that's why, when he's among his normal friends, his reality persona is simply missing. 
We expect him to be the hilarious one bouncing off of insanity of his cohorts. The spin-off is all about his career, and while his buddies might get the benefits of his swanky hotel suites and fame, they can never match the comedic gold of Pauly versus
Jersey Shore's
Meatball duo,
Snooki
and Deena. And as close as he is with this group of friends, nothing can top the epic bromance that is Pauly's televised friendship with Vinny. It's simply missing the vodka-soaked magic.
Naturally, the pilot needs to establish the other characters outside of the man we all know and love, but from what we've seen so far, it'd be more fun following Pauly around with a flipcam 24/7 than spending time getting into his friends' drama. Of course, there's something to be said for waiting it out. It's possible that over time, we'll get to know these new cohorts. But the likelihood that they're as prepackaged for reality fame as Snooki and company is pretty slim. 
Did you like The Pauly D Project? Do Pauly's friends bring the show down? Is there enough Pauly D?
More:
The Pauly D Jersey Shore Spin-off is Actually Happening
How Will Snooki's Pregnancy Affect Jersey Shore?