Recipe for the Most Hipster VMAs Ever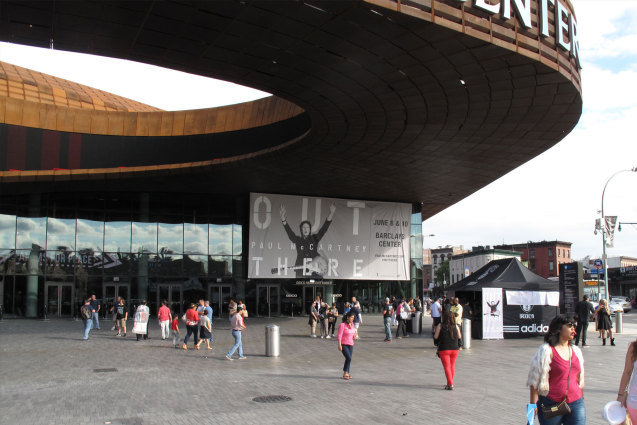 PNP/ WENN
The MTV Video Music Awards may no longer award Moonmen in categories such as "Best Post-Modern Music Video," but that doesn't mean the awards show has sold out and gone all mainstream. In fact, thanks to its location, nominees, and lineup, we may be poised for the most hipster VMAs of all time. 
LOCATION
Talk about street cred. In 2013, the VMAs moved to Brooklyn for the first time ever. The show will be nestled in the Barclays Center, home of the Brooklyn Nets (the most hipster of basketball teams), Brooklyn's first state of the art stadium, which Jay Z himself had a stake in. The stadium serves food from local vendors and the basketball court itself — which, granted, will not be in place during the awards show — is herringbone. If Brooklyn wasn't hipster enough (which it is; it's basically the epicenter of hipster), the stadium certainly is — this ain't the Staples Center. 
THE NOMINEES

Brigitte Engl/WENN

Holy indie bands, Batman! While teen-friendly staples like Taylor Swift and Selena Gomez and blockbuster favorites like Justin Timberlake and Kanye West rule this year's list of nominees, quite a few indie bands are also getting their time in the spotlight this year — and what's more hipster than an indie band? Sure, the list includes gettin'-too-big-for-their-britches Mumford & Sons and fun., but we could also see less mainstream artists like Duck Sauce, Flying Lotus, Yeah Yeah Yeahs, Capital Cities, and The Weeknd take home a trophy. And, while we're at it, Janelle Monae, Lana Del Rey, Vampire Weekend, Imagine Dragons, Miguel, and Iggy Azalea — is this an awards show or a warehouse party in Bushwick?
THE LINEUP
And things get even more hipster when you consider the presenters and performers. We've been promised appearances by everyone's-fantasy-hipster-boyfriend Joseph Gordon-Levitt, the chillest-host-to-ever-sit-behind-a-Late-Night-desk Jimmy Fallon, Scottish-powerhouse-and-style-icon Emeli Sandé, and I'm-so-hipster-I-bleed-PBR Jared Leto. There is also a rumored surprise performance by Daft Punk because of course.
BONUS: LENA DUNHAM 
Fun. is nominated for a VMA. Lena Dunham is dating fun. guitarist Jack Antonoff. There's a good chance Lena Dunham will be at the Barclays Center tonight. And anything Lena Dunham attends automatically gets 5 million hipster points. 
The VMAs air on MTV Sunday, Aug. 25 at 9 PM ET.
More:
Who Would Win These Retired VMA Categories in 2013?
Most Controversial VMA Moments of All Time 
Will There Be a Surprise *NSYNC Reunion at the VMAs?
Follow @hollywood_comFollow @abbeystone
---
From Our Partners


Stars Pose Naked for 'Allure' (Celebuzz)


20 Grisliest TV Deaths of 2012-2013 (Vulture)