Naomi Campbell Won't 'Sugar-Coat Anything' on Her New Show 'The Face'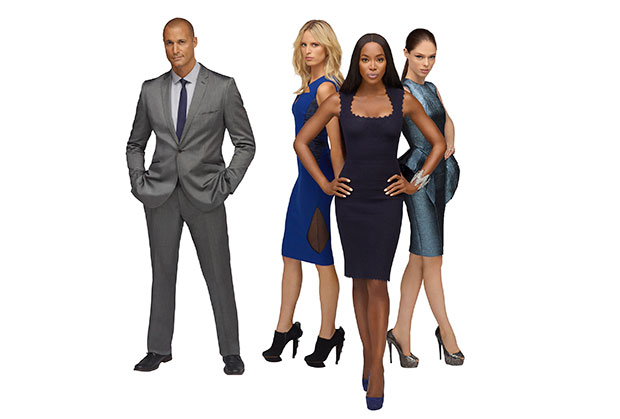 When supermodel Naomi Campbell took the stage Monday morning at the Television Critics Association press tour, the entire room full of reporters stood up a little straighter and braced for any potential flying cell phones.
Luckily there were no iPhone fatalities. Instead, Campbell discussed her new Oxygen reality-show The Face — think of it as a combination of America's Next Top Model and The Voice. When the TV competition premieres Feb. 12, viewers will see executive producer Campbell — along with former Victoria's Secret angel Karolina Kurkova and world-renowned supermodel Coco Rocha — act as mentor to 12 hopeful models.
Each coach will guide a team of four girls as they compete to be the face of ULTA Beauty, one of the fastest-growing beauty retailers in the United States. Fashion photographer and former ANTM judge Nigel Barker will host what he considers to be a "truly unique" freshman series. Barker explained that he is excited to serve as a "negotiator" on the competition, rather than as a judge.
Campbell expressed her desire to bring a show like this to television. "There is no model handbook," she says. "Coming from the nineties we basically had to learn as we went along … I think the industry has changed and we have changed, and now I think a show like this is definitely needed."
Executive producer Eden Gaha stressed that The Face will focus on the real world of modeling, as opposed to a characterized version that other modeling shows in the past have featured. (Ahem, he's totally talking about you ANTM…)
The three supermodel coaches handpicked the top 12 girls from a group of 24 models, whose experience ranged from 10-plus years in the industry to fresh-faced newbies. The coaches were quick to reveal that there were no height requirements to enter the competition. "That's what is so great about our show," Campbell says. "We've got from small to tall."
Barker said it was great to watch the coaches form a genuine bond with each of their contestants. Campbell agreed, revealing, "Whether the girls were on my team or not — whether they were on Karolina's team or Coco's team — I felt an overall protection to all the girls." The mentor and EP says that at times she felt like a "certified shrink" on the show, however, Campbell explains that she was still brutally honest with her girls. "I'm the mentor or coach that gives tough love… I do believe that you should not sugar-coat anything."
So — what is the secret to winning the new Oxygen reality competition? "I think the bottom line is they have to believe in themselves," Campbell says.
You can catch the series premiere of The Face Tuesday, Feb. 12 on Oxygen.
Follow Leanne on Twitter @LeanneAguilera
[Photo Credit: Oxygen]
MORE:
Justin Bieber Teases 'SNL' Hosting Gig With Very Important Tweet
'Happy Endings' Recap: 2013 Is Going to Be a Happy Year
'The Biggest Loser' Premiere: Are You Glad Jillian Michaels Is Back? — POLL

30 Hottest Lingerie Scenes from the Past 30 Years (Celebuzz)