'Nashville' Get's Full-Season Order, Y'all!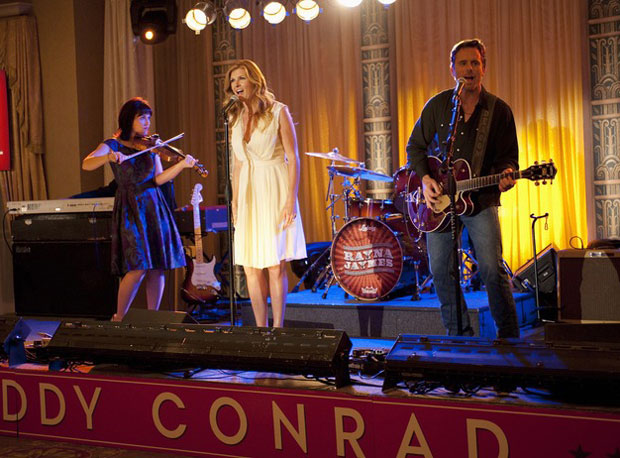 That good ole country spirit is holding strong at ABC, y'all! And with that comes the full-season order for Nashville, the freshman drama series surrounding Connie Britton and Hayden Panettiere as rival country divas.
A rep for ABC has confirmed to Hollywood.com that the alphabet network has given a back-nine order to the country music drama, filling out the remainder of the season. The show comes from acclaimed Oscar winner Callie Khouri. Before the show even hit the airwaves, the critically acclaimed Nashville garnered a 2.8 rating in the adults 18-49 demographic with 8.93 million viewers. And while it fell below expectations, it has continued to averaged 6 million viewers per week.
One thing working in Nashville's favor is its cachet of music created for the series with the iconic producer T-Bone Burnett. This, in the same vein as Glee, allows the network to tap into additional revenue by making the songs available for download.
Nashville joins several other ABC shows who also recently received full-season orders—including rookie comedy The Neighbors and Shonda Rhimes' drama Scandal. Newbies Last Resort and 666 Park Avenue are still awaiting full-season status, though ABC has already picked up additional scripts for both series. Nashville airs Wednesday nights at 10PM EST/PST on ABC.
Are you a Nashville fan? Happy that Tami Taylor Connie Britton's show will live to sing another day? Let us know in the comments!
[Photo Credit: ABC]
Follow Alicia on Twitter @alicialutes
More:
'Nashville' Recap: It's (Even More) Complicated
Full-Season Orders for ABC's 'Scandal', 'The Neighbors'
Fun with Ratings: 'Nashville' Is a Hit, Y'all

Selena Gomez Flies Out of Los Angeles Following Justin Bieber Split (PHOTOS)
(Celebuzz)