'Nashville' Recap: A Sick Game of Truth or Dare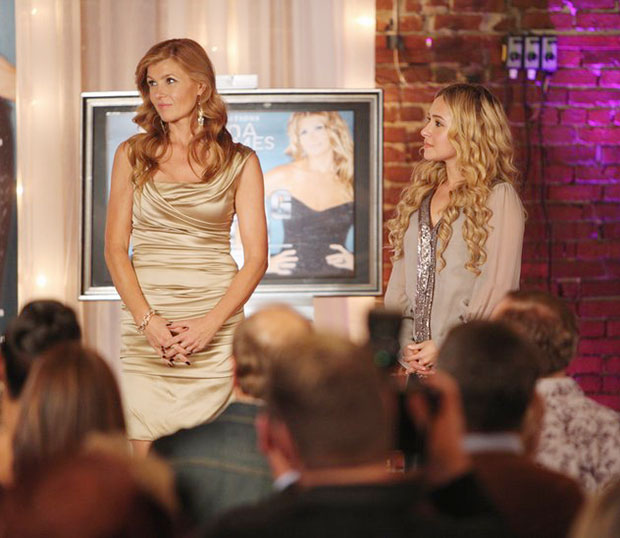 Last week on Nashville, all of our friends exercised their right to some good ol' passive aggressive bitchiness. But last night, for the first time, honesty was flowing from everyone's veins faster than Juliette could get her top off. People were speaking their mind left and right — for better or worse — and it was just beautiful. The turn from phony to truthful is perhaps just what we needed to get back on a drama-filled course.
The Deacon and Rayna Juliette Story
Remember way back when when Deacon and Juliette had a fling of sorts and then he helped her mom check herself into rehab? That seems like ages ago, but it wasn't. It was only a bit ago and the fire is still burning. Well, sort of. What hasn't faded at all is the friendship that these two sordid souls formed over a shared disturbing history. Juliette's mom is out of rehab for a brief time, and Deacon is there to be her shoulder. He knows the pain of both sides and wants to be her support. It's all very nice. Deacon invited Juliette's mom to the tour party to celebrate Juliette and Rayna, and although Juliette was all skeptical about bringing her mom into a room filled with booze and fancy people — as she should be — she conceded. The three of them went hand-in-hand, and surprisingly mama Barnes was well-behaved. What Juliette couldn't stand was that everyone — including her mom — was paying more attention to Rayna than to her. RANYA, RANYA , RANYA!, she screamed over and over again in her hairsprayed head. Deacon was also affected by Rayna's power, as he nearly turned to the bottle. But it wasn't just about Rayna — a magazine article from his short-lived tour just hit stands, and it did not say nice things about him. Nothing nice at all. He was wallowing in his pain when Rayna stopped by his house to check in on him. Instead of beating around the banter bush, the two really got right at it. Deacon told Rayna that he was not her responsibility anymore, and then proceeded to blame her for all that's f***ed. He told her she gave up on him when he was in rehab, and that he thought they were going to get married. She told him that she didn't know that the fifth time was going to work. That she was tired of waiting. It was the most honest conversation the two have had, and it was definitely a long time coming. After more word vomit, Rayna walked away defeated, and Deacon slammed the door behind him. Fast-forward to Dea sitting in his disheveled room, contemplating going down the rabbit hole again. When Juliette was sitting with him, trying to be helpful, he told her that he only got better for Rayna. Juliette told him straight that Rayna seemed like the last thing he needs right now. He agreed to join Juliette's band, and next thing we know, he's on a plane with her and Rayna leaving for the next leg of the tour. Let the drama ensue.
The Rayna and Teddy Story
When are these two going to give it up? The whole thing. Yes, Teddy is cute in a buttoned-up sort of way, but he's a liar and a cheater and, well, he just doesn't have the stubbled cheek Rayna's going for these days. She's been all into her new "partner" — Liam something or other. He's like a younger Deacon, but even cuter. She's tempted by his dark eyes and power, but she does have a moral compass. That she does. But what she and Teddy didn't do this episode was tiptoe around their problems. She told Teddy that she's staying with him, even through his lies and deceit, even though she was waiting for Deacon to recover at one point. (Even though one of her daughters is Deacons?!) Everything appeared to be fine, or at least manageable, until Teddy saw Deacon hopping on the tour plane. He knows what's coming. It's just a matter of time.
The Scarlett and Gunnar Story
These two might as well be a married couple. You can tell because they've started bickering. Scarlett was being offered a part in a band, which she wanted Gunnar to be a part of, but he's just happy writing songs in their laundry room, or something. He's not ready to commit to anything, especially considering his fugitive brother is missing somewhere, with his damn guitar. It's real-life problems that he doesn't feel Scarlett can handle. But he tried. He really, really tried to explain the situation to her. Of course, the second he attempted to do so, the quivering lip came out and she pouted and ran away. God, is she annoying. Gunnar obviously likes her, or wants to bone — one of the two — but she isn't making it easy by playing Lady Madonna. Does she own anything but white? Come ON. So, the two are at a standstill. Gunnar is going to have to figure out his brother drama on his own and until then, Scar will be practicing musical rounds by herself in the mirror, brushing her hair 100 times.
The Avery Story
Oh, Avery. Poor, poor Avery. He just wants to be noticed! Our choker friend showed his vulnerable side this episode, when he tried to interact with Juliette. Because his band left him and his cougar manager sucks, he needed backup. He went to Juliette at the tour party, but she could not care less. His glistening eyes and porcelain skin and baby voice don't do it for her. He couldn't even get a few words out before she flat-out said she had never heard of him. Burn. Avery put his head down, Eeyore-style, and moped around for the rest of the party. Juliette won't talk to him, Scarlett won't talk to him, the cougar won't even sleep with him anymore for Christ's sake. He was having a bad day. All he could do was drive around, blasting music, thinking about all of his failures and the pathetic road he's taken. He's got no girl, no music and his hair is starting to look repulsively greasy. And it seems his disaster of a life is just beginning.
[Image Credit: Chris Hollo/ABC]
Follow Anna on Twitter @thebrandedgirl
More:
'Nashville' Recap: Battle of the Bronzed Arms and Gold Glitter
'Nashville' Recap: Private Jets and Cougar Bars