'Nashville' Recap: Dreamin' and a Stealin'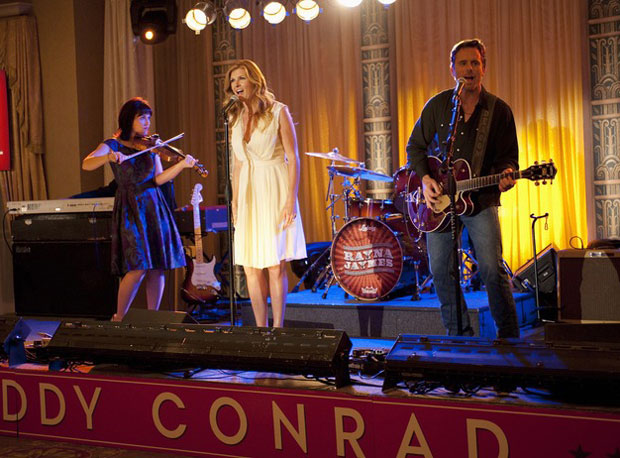 Despite airing on October 31, last night's episode of Nashville had nothing to do with Halloween. Unless you count Clare Bowen's Scarlett dressing up like a perpetually scared-looking American Girl doll, but that's every episode. Still, even with no actual Halloween theme, that didn't mean the show didn't play a nasty little trick on viewers. The fourth episode of Season 1, titled "We Live In Two Different Worlds", opened up with a reunited Rayna and Deacon in bed together, blissfully post-coitus. How hot! How scandalous! How totally fake! That's right, the makers of Nashville pulled the oldest trick in the television book, a maneuver typically pulled by a show well into its run: the dreaded It Was All Just A Dream Fake-Out. Come on, y'all!
Rayna's lingering feelings for Deacon crept into her subconscience for a sexy dream before she was so rudely awakened by her milquetoast hubby Teddy. (Does anyone have a hard time connecting with anyone else as Connie Britton's television husband being anyone other than Kyle Chandler?) Of course, since this is a primetime soap opera about country music, it only makes sense for every storyline to feel like a country song. The playlist for last night's Nashville would have sounded a little something like this: 
"Your Cheatin' Heart": It's pretty damn evident that Rayna and Deacon are still wildly in love with each other. Probably because even when she married the "easier" choice, they never fell out of love with each other. They both love each other too much to let each other go. For the second week in a row, Rayna has made a declaration that their personal and professional relationship is over, but they (and anxious viewers and shippers) know that won't last very long at all. Aside from Rayna's cop-out of a dream about her ex, Deacon showed, once again, how much he was willing to be around Rayna when he agreed to perform at a campaign fundraiser for Teddy. While the two wisely opted not to sing "No One Will Ever Love You," there was still plenty of drama to be had. Teddy and Deacon had fightin' words (sadly, no duel) and Deacon proceeded to shoot "Your wife is still very much in love with me" glances towards Teddy during their act. At home, Rayna assured her suspicious, crestfallen husband she would let Deacon go. 
"You're Actually Cheatin'"
: Okay, so that isn't actually a country song, but it sure could be! In fact, it could be one about the two-timing Teddy. That's right, the reason why he was so suspicious and paranoid about Rayna and Deacon is because he has to try and smother Rayna's suspicion and paranoia about Teddy and his ex Peggy (actual country music spouse
Kimberly Williams-Paisley
). She has every right to be, as Teddy has been having, from the sounds of their secretive conversation, a long-running affair with the daughter from
Father of the Bride
. A cheater living under the guise of a devoted family? Teddy will make a fine politician, indeed! Peggy, who has a family of her own, ponders if they should come clean, but Teddy warns that will ruin his campaign. There's no way these two won't be discovered, it will just be interesting to see when the whole thing unfolds if Rayna chooses to stay by her man. Not that anyone should condone cheating, but this storyline gives Teddy a more human element. Here's someone who has seemed like he's living in the shadow of another man, when really he's just as trapped in his facade of a marriage. Still, you just
do not cross Connie Britton
. Ever. 
"Modern Day Bonnie (and Clyde)":
Juliette's shoplifting incident became a full-fledged Hollywood scandal when the video taken by those meddling kids hit the web. The bratty starlet brushed it off as no big deal but her spin team suggested she do some damage control by doing an interview with
Good Morning America
. During a satellite interview with
Robin Roberts
(who looked fantastic), Juliette makes matters go from bad to worse when she blames the incident on people being jealous of her fame and promptly storms off when Roberts asks about her recently arrested mom. (Said drug-addled mama has been lingering around Juliette's house, but that plot device hasn't quite connected the way it should yet.) Juliette's manager threatens to leave, but when she confesses to why she actually lifted the nail polish (a way of feeling in control), he decides to stay put, for now. A friendless Juliette (who the Nashville creators seem hell-bent on making the country music equivalent of Lindsay Lohan) then booty calls an already achin' Deacon, thus starting what could be the beginning of an inevitably doomed love story. 
"He Stopped Loving Her Today": The least interesting of the Nashville story lines, Scarlett's total whiny knucklehead of a boyfriend Avery continues to be jealous of her rising star and her blossoming googly eyes relationship with Gunnar. Gunnar, meanwhile, was off having a fling with a coworker whose name I don't remember and really won't make an effort to as, let's face it, she will eventually have to succumb to Scarlett stealing her man. If Scarlett and Gunnar had more scenes together this week, I probably would have cared, but since Avery and Future Ex-Girlfriend are so terribly uninteresting, I could only get excited by next week's preview in which the musical duo make googly eyes at each other in the studio. 
What was your favorite song/storyline and actual song from last night's Nashville? Were you annoyed by the dream sequence fake-out, too? Or did it tide you over until Rayna and Deacon actually wind up back together? Is the troubled Juliette storyline working for you? Did you suspect Teddy was cheating? Share in the comments section, y'all. 
[Photo Credit: Katherine Bomboy-Thornton/ABC]
More: 
Nashville Recap: Nudity, Jealousy, and Shoplifting
MTV's 'Teen Mom 3' Cast Revealed
(Celebuzz)