'Nashville' Recap: The Dark Day Scarlett Wore Black (Season 1, Episode 20)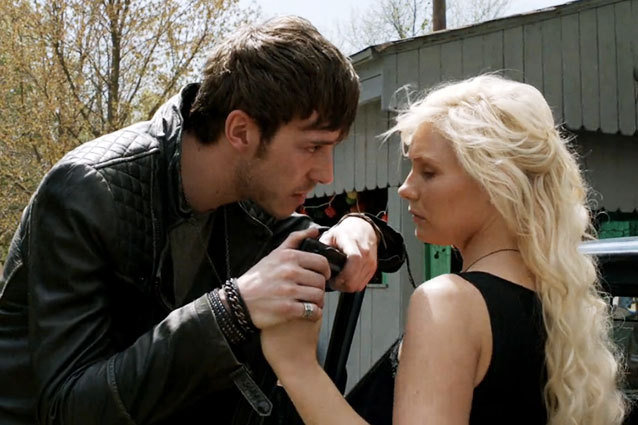 Things were all fun and games back when all the drama that existed on Nashville revolved around which woman was going to sleep with Deacon, a dying bromance, and how on earth Rayna was going to keep her hair bouncy through an entire performance. But things have changed. Boy have things changed. We've taken a sharp turn into the dark world, and I fear there's no going back. But maybe that's a good thing. 
The Rayna and Deacon Story
Our favorite almost-couple is still very much in the honeymoon phase. They grope each other in closets, backstage, on dirty couches, etc. — it's all very romantic. Deacon so badly wants to be a part of Rayna's family that he jumps on the invitation to come to Rayna's house for dinner. He plays with the kids and even lets them sing that stupid Lumineers song again (get a new song, girls) painting the perfect portrait. But playing house comes to a quick halt when the big, bad, super intimidating Teddy comes home and flips a s**t when he sees what's going on. How dare Deacon bring his guitar anywhere near his family. Get that wretched thing away! He's so pissed that he literally gets a restraining order against him, stating that he can't get anywhere near the children. And if that isn't demented enough, he assures Rayna that he's got full control of his balls now and he's not letting anything, nothing, get in the way of his relationship with his daughters. Not even crazy ladies dressed as stewardesses! (I kinda miss Peggy now.) But that doesn't mean Rayna can't have her own fun. The old Rayna would have definitely let this hiccup get in the way of her thing with Deacon, but not this time. It's clear this time is different.
The Maddie Story
Speaking of creepy daughters, Maddie is the worst! There was a time when she was almost as bad as Dana on Homeland, but now, she is officially the creepiest. She spends most of her days snooping in doorways and hiding her evil behind thick-framed glasses. And get this, people are buying it! They're all fooled. But I am not fooled. No way. Maddie slinks up against the door to listen in on Rayna's conversation and hears her tell Deacon that she loves him. Like, duh. This should mean nothing, right? They call him Uncle Deacon for Christ's sake. Why would love be such a surprising word? Anyway, because of this, Maddie is all like "I must get to the bottom of it." Of what? No one can be sure. So, she digs through all of the paperwork that's conveniently easily accessible in Rayna's room, and somehow comprehends that Deacon is probably her dad. Like WHAT? What the hell was that? How did she just happen to come across the perfect paperwork? Nothing makes sense and Maddie is still a creep show.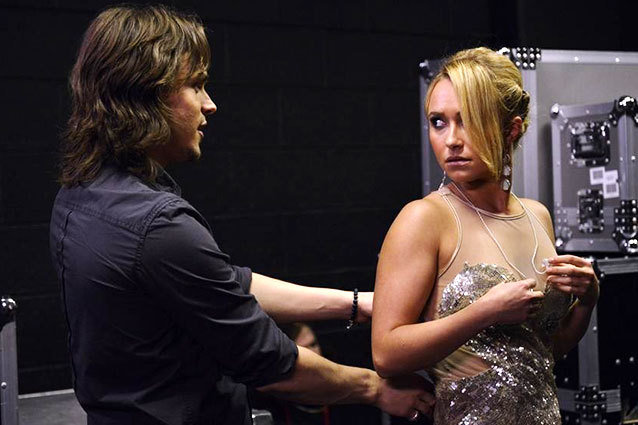 The Juliette And Mom And Dante Story
Juliette is in a pickle. She is in the biggest pickle of all because that tape Dante warned her about? Yep, it's a sex tape. And it sounds like a freaky one. Juliette is bugging because all she really wants is to win that stupid CMA, so when Dante tells her that he'll destroy the tape for $2M she's all like "SURE!" and sends over a fancy briefcase. But then Dante gets smart and is like "JK I meant $10 Mil." Juliette doesn't know how to handle the mess, but ultimately decides it's better to come clean than to have Dante get away with it. But her mom has got another plan. She heads over to her old pals at the crack den and gets some good stuff. A little of this a little of that and she's on her way. Then, she calls Dante and tells him that she's in love with him and can't imagine seeing that tape of him having sex with her daughter and begs him to come over with the evidence and she'll give him the money he wants. For whatever reason, Dante trusts her and actually meets her where she is to make the exchange. But instead of giving him the money, SHE SHOOTS HIM. Like, literally she pulls out a gun and bang bang you're dead. Just like a real soap opera! Nashville is learning! But yes, it is sad. And then she takes all those drugs at once and kills herself. When Juliette sees what has happened she breaks down entirely. We even see her crying without her makeup on. Real stuff, you guys.
The Scarlett and Gunnar Story
The once rainbows and butterflies couple is now the eemest (eemest: stuck in pathetic depression) couple of all. So much so that Juliette ditched her all-white uniform and put on solid black. No, not a little black here, a little black there — ALL BLACK. And Gunnar, well Gunnar is just a total mess. He's ditched the hair gel and started combing his hair forward like a rebel, put on some tight black jeans and a studded pleather jacket, and is singing his dead brother's songs about being locked up in jail. This persona isn't going to last very long once people realize the most badass thing he's ever done is wear clean cowboy boots. Scar is all distraught about having a liar as a boyfriend, but is willing to let it slide until she hears him on the radio saying he does whatever he wants in the lady department. When she confronts Gunnar about it, he's all like "chill baby, chill," but she won't. She says that he better be at her performance when she opens for Rayna at the Country Music Awards, and he says that of course he will. But then, instead, he and Luke from The O.C. get in a bar fight with some punks and end up in jail. It's all over for Gunnar.
The Avery Story
You know who was in the audience listening to whiny Scarlett front and center? Avery. Avery was there. A long time ago, Avery was such a jerk. He was selfish and controlling and only wore one offensive choker necklace. But suddenly, he has become the most likable character on Nashville and you know I don't hate it. I do not hate it at all. Just going to forget that maybe he and Juliette are going to hook up soon. It hasn't happened yet. Please God, don't let it happen.
More: 
Proof Scarlett on 'Nashville' Has One Outfit
'Nashville': Family Secrets, Gross Hookups
'Nashville': The Return of the Diva
Follow Anna On Twitter @Thebrandedgirl
---
From Our Partners:


Zoe Saldana Strips Down For Magazine (Celebuzz)


33 Child Stars: Where Are They Now? (Celebuzz)