NBC Cancels 'Animal Practice,' to the Chagrin of Annie's Boobs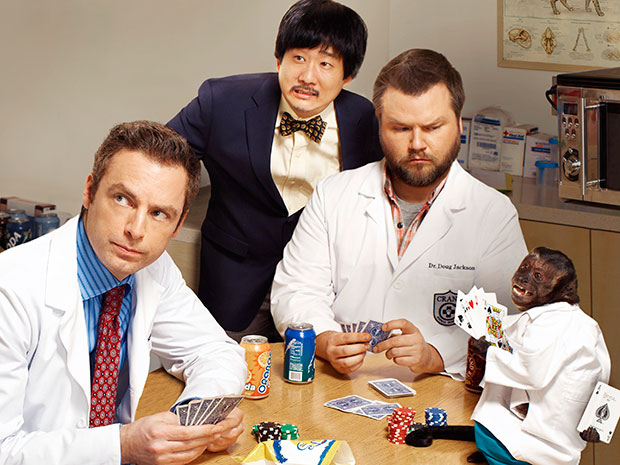 What a long, strange trip it's been for NBC's comedy series Animal Practice, the melding of the comedic stylings and onscreen charisma of Weeds star Justin Kirk with that of Community recurring player Annie's Boobs (she's a monkey). Hollywood.com has confirmed that the sitcom, which premiered in August, will be pulled from the fall schedule, and will be replaced by network returner Whitney.
Animal Practice will continue to run weekly until Nov. 14, the date for which Whitney's second season premiere has been scheduled. The Kirk-led series debuted to a health viewership of 12.8 million, but has since failed to break 6 million.
Whitney stars comedian Whitney Cummings (the series' creator) and Chris D'Elia as a loving but dysfunctional live-in couple. The series had previously been slated for a second season premiere on Friday, Oct. 19, but was delayed indefinitely. Whitney will now air on Wednesdays in Animal Practice's present 8 PM slot. Fellow NBC delayee Community has yet to earn an official return date.
[Photo Credit: NBC]
More:
'American Horror Story' Review: The Scare Is Never as Good as the First Time
How Much is Too Much, Ryan Murphy?
Fox's 'Total F Up' Pushes 'X Factor' To Tuesday, Angers Simon Cowell
From Our Partners:

Giuliana and Bill Rancic Planning for Baby No. 2: 'I Would Love a Girl,' Says E Host
(Celebuzz)

Kate Upton Flaunts Major Cleavage in Vogue's November Issue — PHOTOS
(Celebuzz)