NBC Cancels 'Free Agents' Starring Hank Azaria and Kathryn Hahn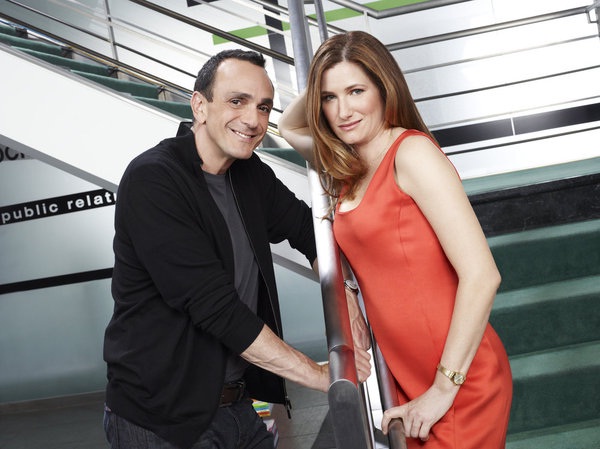 NBC is getting a real head start in the cancelations this season. On Tuesday, the network gave the axe to its controversial period drama The Playboy Club. Today, it has decided to cancel Free Agents, the workplace-romance sitcom starring Hank Azaria (The Simpsons' star player) and Kathryn Hahn (frequent supporting player to Will Ferrell and co).
Azaria played Alex, a recent divorcee, and Hahn plays Helen, whose fiancee died a year prior to the events of the series—the two are co-executives at a PR firm. The pilot saw the fragile and romantically starved duo falling immediately into a sordid, comical sexual affair, which proved both a poor idea personally and professionally. The series was intended to explore the doomed-from-the-start romance as both partners try to balance the two conflicting aspects of their tumultuous lives.
Azaria is more often than not, the best part of anything he is in. Hahn as well is usually a good source of laughter; she is memorable for roles in Anchorman, Step Brothers, The Goods and Our Idiot Brother. Despite the poor reception of their series, the two shouldn't have much trouble finding a new venue.
Azaria's next project is Happy Feet Two, in which he plays "The Mighty Sven." Hahn will be seen in the upcoming Wanderlust, a David Wain comedy starring Paul Rudd and Jennifer Aniston.
No word on what will take Free Agents' Wednesday 8:30 p.m. ET/PT time slot.
Source: TVLine