NBC Picks Up 'Wonder Woman' Pilot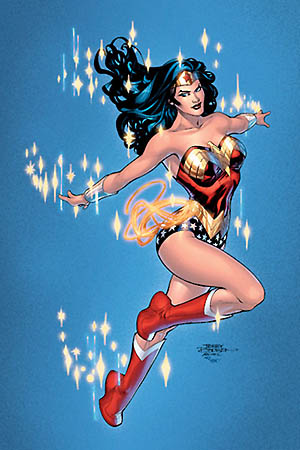 After making the rounds at every major network, David E. Kelley's developing DC Comics adaptation of Wonder Woman was finally picked up by NBC, says Entertainment Weekly. The deal comes on the heels of the official Comcast takeover of the company, as Robert Greenblatt steps in for Angela Bromstad to handle primetime programming.
Kelley's take on the iconic Amazonian princess is said to skew closely to the comic book source material. The heroine will have her signature Lasso, handcuffs and plane, which will help garner votes of confidence from fans eager to see their favorite female crime fighter revitalized after a lengthy absence in mass media. Insiders also say that the tone is serious and will not be campy in the least; another sign of good things to come.
Kelley is a longtime, respected creative force on the small screen. As creator of hit series as wide-ranging as Doogie Hauser M.D., The Practice and Boston Legal, he's left his mark on the entertainment industry and, more specifically, has gained a reputation for developing female-oriented staples like Ally McBeal and Picket Fences. But Wonder Woman is a different animal and NBC doesn't have the greatest track record with genre fare (see: Heroes, Bionic Woman, The Event). With a feature film version of the character in constant limbo, fans and enthusiasts will be even more judgmental of this serialized take on the superheroine. As the source points out, the biggest question now is who will don the Tiara this fall?
Source: EW