5 Musicals NBC Should Produce, and 5 They Should Avoid at All Costs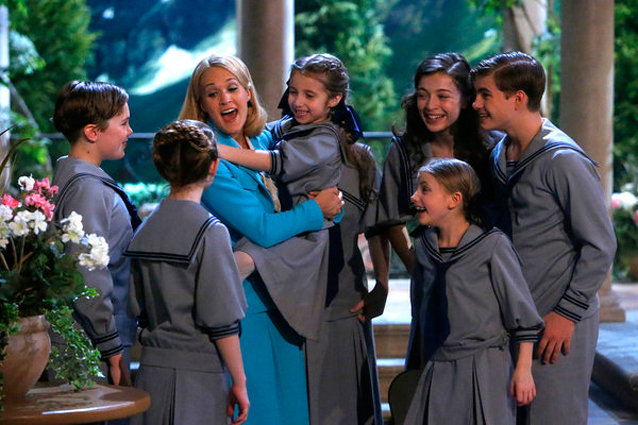 NBC
Whether you loved it, hated it, or just enjoyed making fun of it, there's no denying that last week's Sound of Music, Live! television special on NBC drew a lot of attention and some massive ratings. And all of those people watching and live-tweeting have inspired the network to make it an annual holiday tradition. That's right: there will now be a live musical on television every year, for better or for worse. NBC already has a few new productions they're currently circling, and although it's still too early to reveal any clues about what audiences can expect next year, they have promised that they're looking for something that's family-friendly and has enough familiar songs to appease everyone. 
With those strict criteria in mind, we've come up with five options for musicals we'd love to see NBC turn into a live television special, and five they should avoid at all costs. 
DO'S:
Funny Girl 
Since it's likely that NBC will turn to some classic movie musicals in order to find inspiration for their next production, we suggest they step away from the obvious choice of My Fair Lady and instead go with Funny Girl, the musical that made Barbra Striesand a household name. There's plenty of familiar songs to catch people's attention and the story will appeal to older audiences who are familiar with the movie, or younger audiences who grew up watching it. If they're interested in enticing a younger audience, all they would have to do is cast Lea Michele, whose Glee character Rachel Berry is currently playing the part, and who is a shoo-in for the lead if the production ever returns to Broadway. Besides, if there's anyone in the world who is set to inherit Streisand's legacy, it's Michele, and this would be the perfect place to establish herself as a mini-Barbra. 
Thoroughly Modern Millie
Although the movie might be less familiar to most audiences than Funny Girl, the musical, which was originally produced in 2002, has become a staple of high school theater departments across the country. This connection would allow the network to draw a younger audience, who are familiar with the production, but the 1920s setting and jazz-age inspired music won't turn off an older audience either. And even though the songs might not be as well-known as the score of The Sound of Music, it's catchy and up-beat enough to stick in your head for weeks afterward. For star power, NBC could go with Sutton Foster, who originated and won a Tony Award for the role when it was on Broadway, as her stint on the beloved but canceled Bunheads would draw a decent sized audience who are eager to see more from Foster. 
Wicked 
Sure, they could choose The Wizard of Oz, which has become part of a holiday tradition for many people already, but let's face it: without Judy Garland, the show's kind of boring. Instead, the network should go with Wicked, which has become somewhat of a modern classic. It's entertaining enough for children, complex enough for adults, and has become a pop culture phenomenon and the biggest hit musical Broadway has seen in quite some time, all of which would translate to massive ratings for NBC. Sure, the set would be a bit complicated, but nothing draws in viewers like the risk of a fly rig malfunctioning live on air. Plus, if the network managed to get Idina Menzel or Kristin Chenoweth to reprise their roles, there's no way anyone would watch anything else that night. 
Little Shop of Horrors
This choice might be a little less family-friendly than some of our other suggestions, but despite the threat of a man-eating plant, Little Shop of Horrors has cross-generational appeal, and its score has the familiarity that NBC is looking for in a musical. The danger and sentient plants will appeal to children, and the story is well known and well-loved by older viewers, so it really wouldn't be as risky for NBC as they might think. Plus, all they would have to do is cast Neil Patrick Harris as Seymour, and the ratings would come flooding in. 
Guys and Dolls
Another classic that would work for NBC would be Guys and Dolls. Like Millie, it's a staple of theaters across the country, and the score contains songs that have become famous in their own right. This one might be harder to entice a younger audience to watch, as it lacks some of the flashier elements that would keep children entertained, but that could easily be solved by casting Hugh Jackman. Ideally, Jackman would play Sky Masterson, which would allow him to work his charm on both Sarah Brown and the audience, but he could also pull off a fantastic Nathan Detroit — especially if he had a talented, comedic actress to play off of. Perhaps Lauren Graham could reprise her role as Miss Adelaide? 
DON'TS: 
Spring Awakening
You might think we're crazy for including a rock musical that includes profanity, nudity, suicide, and back-alley abortions, but if NBC decided to appeal to a younger audience, there's a chance they could follow in the footsteps of 90210 and decide to mount a production of Spring Awakening. After all, it was Lea Michele's breakthrough theater role, and if they managed to bring back the original cast — which included Frozen's Jonathan Groff, Skylar Astin from Pitch Perfect, and The Newsroom star John Gallgher Jr. — then high ratings would be guaranteed. But there's no way that a television network would manage to put on this show effectively, since they would have to change about 95 percent of it. 
Mary Poppins
With Saving Mr. Banks hitting theaters soon, NBC might decide to capitalize off of the renewed interested in Mary Poppins and put on the musical next year. While it's a great choice for them, being a much loved film with familiar songs, characters and stories, we don't think it's such a good idea. Firstly, Disney would never grant them the rights, as that would mean handing over massive ratings to a rival network. But, more importantly, if there's one thing we all learned from The Sound of Music it's this: don't ever attempt to recreate a role made famous by Julie Andrews. 
Annie
Yes, it's a classic, and yes, everyone knows at least two songs from the show and are able to belt them out at the drop of a hat. But do you really want to spend a whole three hours watching precocious children sing and dance on screen while your obnoxious little cousins do the same in your living room, and everyone around you acts like it's the cutest thing they've ever seen even though it's clearly terrible? No, we didn't think so. 
The Phantom of the Opera
Despite currently being the longest-running show on Broadway, which proves its universal appeal, and the fact that it would look almost as amazing onscreen as it does in the theater, Phantom is a terrible idea for a television special. Why? Because in addition to encouraging plenty of people to romanticize a relationship that consists entirely of stalking and kidnapping, after about two songs, it feels as if you're just listening to a three-hour funeral march. Plus, there are very few people who are both famous enough to draw in an audience and talented enough to sing that score without it being a complete train wreck. 
Cats
This year, give your family the gift that keeps on giving: the trauma that results from watching a bunch of adults wearing skintight leotards and face paint crawl around in some moodily-lit garbage cans to a score that it both incredibly boring and obnoxiously catchy. We'll sit this one out, thanks.