NBC Upfronts: Previewing The Good, The Bad and The Ugly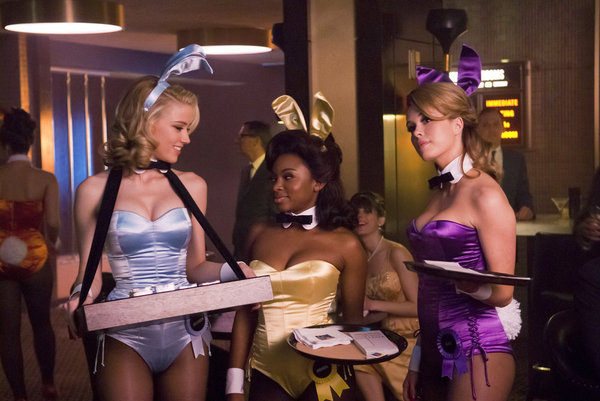 Every year around this time, the networks go crazy announcing new shows and new faces as the hope of their impending fall seasons, but no major network has more hope or more riding on these announcements that the fourth place NBC. Just yesterday, they released video previews of their slew of new comedies and dramas that aim to take them in a new direction and we've got them all line up here with a little bit of context and few opinions.
We're looking for potential here, and while a few have some real promise, there are just as many that aren't so lucky.
Fall previews:
Free Agents
Starring: Hank Azaria and Kathryn Hahn
Basics: Two recently single Hollywood agents commit the ultimate co-worker sin (yep, we're talking about sex) and have to deal with it in this workplace comedy. Of course, one sexual encounter undoubtedly leads to another and with that comes a big ol' mess.
Potential: Good
Why: Despite the annoying presence of Natasha Leggero, this show rides on Hank Azaria, which is a pretty good person to weigh your hopes and dreams upon. The biggest hurdle I see at the outset is the chemistry between Helen (Hahn) and Alex (Azaria). Even accidental friend with benefits have some sort of sexual tension and since this is what the show is about, let's hope that chemistry is just undergoing a few growing pains. Also on the positive side is that the writer for the show, John Enbom, also wrote for Party Down, which didn't last but was an excellent short-lived workplace comedy.
Whitney
Starring: Whitney Cummings, Chris D'Elia, Zoe-Lister Jones
Basics: Comedienne Whitney Cummings brings her perspective on love to the small screen in a sitcom that finds her character Whitney and her boyfriend Alex  doing anything it takes to keep from becoming a typical boring couple, including refusing to get married and keeping it fresh with botched attempts to spice things up.
Potential: Ugly
Why: Take a look at this clip and you'll see that while some folks may love Cummings as a standup comedian, she doesn't really hold her own when it comes to scripted television. That's a problem when the show is all about her. D'Elia and Jones try to offset Cummings' awkward delivery, but if the writing doesn't tighten up, it won't be enough.
Grimm
Starring: David Giuntoli, Russell Hornsby
Basics: Detective Nick Burkhardt finds that he can see things others can't, like a man turning into a violent troll or a pretty woman becoming a hag in an instant. It turns out he's one of a group of hunters called Grimms who must keep the real world safe from these fairy tale villains.
Potential: Not Bad
Why: If you watch these previews, you might note a sense of familiarity. That's because this series comes from the guys behind Buffy and Angel. While it won't be winning any Emmys, it looks to have the potential to capture those Buffy fans who've been dealing with the hole the long-running series left when it ended. Whether or not it succeeds in this endeavor lies on the show's brand new star, but let's hope there's more to him than what we see in these clips.
The Playboy Club
Starring: Eddie Cibrian, Amber Heard, David Krumholtz
Basics: Hoping to nab a piece of the 60s fad started by Mad Men, NBC introduces this salacious soap set in the original Playboy Club in Chicago, complete with sex, mob action, secret pasts and those classic bunny suits.
Potential: Good
Why: Cibrian's Nick Dalton is no Don Draper and the intrigues are certainly low brow compared to the ups and downs on the leading 60s drama, Mad Men, but this show has enough sex appeal and intrigue (like when Heard's character kills a guy with her stiletto; yikes) to potentially ensnare a few viewers. Plus, Cibrian's own tabloid exploits coupled with the show's famed nudity clause are enough to draw at least a little curiosity.
Prime Suspect
Starring: Maria Bello
Basics: Maria Bello takes on a role originally held by Helen Mirren in the British version. She's a "tough-as-nails" detective determined to best the rest of the members of the department's boys club.
Potential: Not great
Why: Bello's not lacking the leading lady ability, but the show does rely heavily on a few tired stereotypes — the hard-working woman who doesn't take shit from anyone, isn't appreciated by the men around her, but has that special, all-knowing womanly touch. The show as a whole looks like it wasn't just thrown together, but I just wish it didn't feel like Law and Order meshed with The Closer. Then again, with Kira Sedgwick finishing her last season, folks may be looking for another lady to fill that void.
Up All Night
Starring: Christina Applegate, Will Arnett, Maya Rudolph
Basics: Reagan and Chris (Applegate and Arnett) find themselves with an unexpected bundle of joy and a whole bunch of responsibilities they aren't ready for. Flipping the stereotypes, Reagan goes back to the office while Chris plays stay-at-home dad.
Potential: Good
Why: Not only does the show have a killer trio at its center, but we get Will Arnett as a stay-at-home dad. How can that not be great? Plus, it looks like it might have a little more bite than Arnett's last sitcom attempt, Running Wilde, which was just a little too sweet.
Midseason previews:
Awake
Starring: Jason Isaacs, Wilmer Valderrama
Basics: After a terrible car accident, Detective Michael Britten wakes up in two separate realities: one in which his son survived the accident and he lost his wife, and the other the reverse. When he goes to sleep in one reality the other starts and vice versa, but eventually the cases he works on start to overlap in each reality and it begins to weigh on him.
Potential: Good
Why: It's not exactly the Inception-style drama they've been promising, but it's certainly something the promises to be intriguing, enthralling and even eye-opening. Yes, Valderrama is a part of it, which may seem like a drawback, but Isaacs looks to carry this very original story well. It's only too bad we'll have to wait until midseason to see it.
Are You There Vodka? It's Me, Chelsea
Starring: Laura Prepon, Chelsea Handler
Basics: Based on Chelsea Handler's life and best-selling novel, the show follows Laura Prepon's Chelsea Handler reincarnate, Chelsea Newman, as she attempts to get her life back together after getting a DUI. Chelsea works at the local bar with a few other fiery folks and spews the same jokes you'll find on Chelsea Lately.
Potential: Not Great
Why: Well, I say "not great" because from the looks of these previews, the show ain't great. It's just the same typical Handler jokes we've heard time and again, just delivered with a little less oomph from Prepon, who I want desperately to like. Sure, it's a nice shock to see Handler playing the super straight-laced sister to herself (yeah, that's who she plays), but that could get old really quick. Then again, the woman's fans are pretty rabid, so we may see this sitcom stick around.
Smash
Starring: Katherine McPhee, Debra Messing, Anjelica Houston, Jack Davenport
Basics: The show follows a young woman as she chases her dream of becoming a Broadway star and a songwriting duo as they put on a new production about Marilyn Monroe. Singing, dancing and a whole lotta real life problems ensue.
Potential: Good
Why: It looks to be exactly what we've been promised: grown up Glee. Take out most of the camp, add a little more reality and two thumbs up from Steven Spielberg (who produces the show) and we just may have a hit…that is if Glee doesn't ruin the idea of musical theater for audiences with this awful second season.
BFFs
Starring: Laura Parham, Jessica St. Clair
Basics:Two best friends ended up different sides of the country, but when one ends up getting divorced, she moves back to New York and in with her old friend. Their friendship gets back on track as the newly single Jessica tries to regain her singlehood. It's just not great news for Lennon's live-in boyfriend who starts to feel the pressure of this house guest's constant presence. 
Potential: Not bad
Why: Unlike the other lady-friendly comedies NBC has on deck — Are You There Vodka? and Whitney — this show actually feels genuine and modern in a way that other two are attempting and failing. The only worry I have here is that it won't catch on with viewers, but I think it certainly has potential to be a cute show.