'NCIS' Has More Viewers Than Any Other Show Combined, Crushes 'Smash' and 'Cult'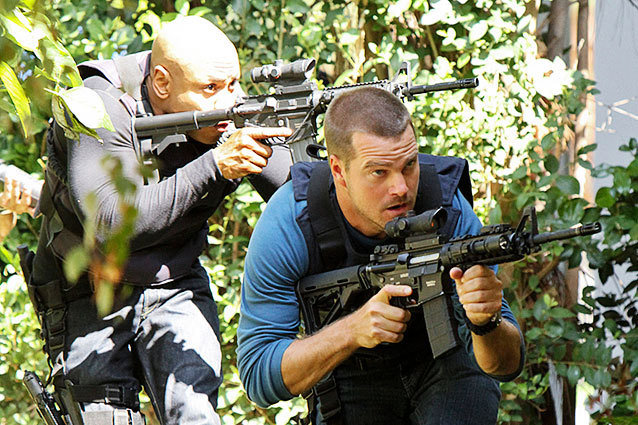 CBS' war horses NCIS and NCIS: Los Angeles are two of those shows that all the fancy pants people with an DVR clogged with AMC shows and a altar built to Lena Dunham on their mantle like to make fun of. "Oh, who watches those shows?" Um, well, just about everyone. While we hear about every time a new guest star gets drafted into the new season of Arrested Development (which isn't even on television), NCIS churns on and on for years without any media buzz whatsoever and just silently rakes in the cash.
Just look at last night. The story everyone seems to be latching onto is that NBC's much-hyped Smash, a show everyone with a Twitter handle loves to type about, hit a series low with only 3.3 million viewers. There's also the fact that Cult, The CW's newest supernatural show that didn't even make sense to those who dared watch it, clocked only 941,000 viewers. If only Emily Owens, MD were still around to put it on life support.
Sure, those are interesting tidbits, but the real news is that NCIS and its' warmer LA cousin are watched more than any of the other network shows combined. Yes, combined. For the night, CBS averaged 15.6 million viewers while ABC had 6.6, NBC had 3.7, Fox had 3.5, and The CW had 1.1. That means CBS had 700,000 more viewers than all the other networks all added up (that is, after all, what "combined" means).
RELATED: Univision Wins Tuesday Night Ratings By Refusing to Show State of the Union
The silent but deadly NCIS had 20.9 million viewers in it's 8 PM time slot (we have to remind readers because they like to pretend that no one knows when it is on). At the same time ABC's The Taste had 4.9 million tuning in, NBC averaged 4.7 million for two episodes of Betty White Presents Old People Are Funny, Fox had 3.7 million for a new episode of Raising Hope and an old episode of New Girl (RIP Ben and Kate), and 1.4 million girls annoyed the rest of the house while watching Heart of Dixie on The CW. That's 6.2 million more for CBS than everyone else combined. Yes, combined.
RELATED: 'Community' Ratings Mark Record Drop (So, Everything's Back to Normal?)
At 9 PM when the naval crime solving moves to the West Coast the audience dipped to a meager (note the sarcasm) 16.3 million. ABC engaged with 8.1 million for a The Bachelor special, Fox roped in 3.7 million for New Girl and The Horribly Named Mindy Kaling Show, NBC averaged 3.1 million for Go On and The New Normal, and the aforementioned Cult…Oh, sorry. The CW blocked any mention of it already. We can't repeat the awful ratings. OK, so at this hour CBS' lead goes way down to 500K, but that is still hammering the competition like a contractor with a meth problem.
RELATED: 'Modern Family' Ratings Are Down: 5 Ways to Get Viewers Back
So, yes, CBS may have a bunch of clone people in a viewing farm somewhere near Area 51 who are nourished by the images of their procedurals and that is what accounts for their monstrous ratings, but never forget they are king, especially when you're hitting Tumblr to share your next Zooey Deschanel GIF.
Follow Brian Moylan on Twitter @BrianJMoylan
[Photo credit: Robert Voets/CBS]
---
From Our Partners:


Bradley Cooper Dancing Is Surprisingly Awkward, Sweaty (Vh1)


Kate Upton Bares All in Nothing But Body Paint: Video (Celebuzz)